US first lady in first Cambodia trip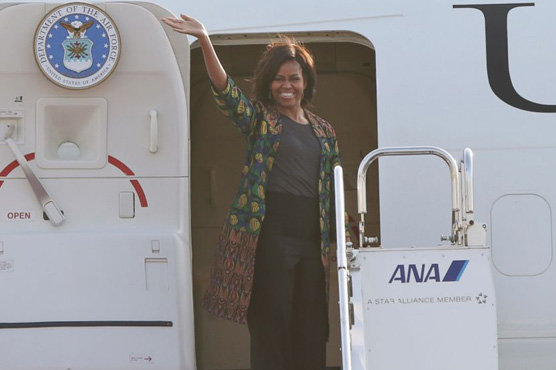 First Lady travelled from Osaka to Siem Reap on second leg of five-day mission to Japan and Cambodia
SIEM REAP (AFP) - Michelle Obama flew into Cambodia late Friday becoming the first wife of a sitting US president to visit the country, part of a two-nation trip to highlight the importance of girls education.
The First Lady travelled from Osaka to the city of Siem Reap without her husband or children on the second leg of a five-day mission to Japan and Cambodia.
She was met at the airport in the tourist hub by Bun Rany, the wife of Cambodian strongman Hun Sen, and was whisked away in a motorcade under heavy security.
Obama is using the trip to highlight what she described in a speech in Japan as a "crisis" in female education, with 62 million girls around the world denied the right to go to school.
The US government has launched the "Let Girls Learn" initiative, which Obama is promoting during the trip and which aims to help young women in developing countries. Japan is a major donor to the initiative while Cambodia is a recipient.
It is the first time a serving First Lady has visited Cambodia -- a country that was once secretly carpet bombed by US warplanes and has striven to shake off a past battered by conflict and the Khmer Rouge s genocide.
Both Jackie Kennedy and Hillary Clinton made visits to the southeast Asian nation after their husbands had vacated the White House.
Barack Obama made the first US presidential visit to Cambodia in 2012 for a regional summit.
His wife s trip is diplomatically less fraught than that trip in which the US president was said to have held "tense" meetings with Hun Sen over his human rights record.
Cambodia s premier marked three decades in power in January and is regularly criticised by campaigners for ignoring human rights and stamping out dissent.
On Saturday Michelle Obama will deliver a speech to Peace Corps volunteers, meet school students and also visit the renowned Ankgor Wat temple complex which lies close to Siem Reap.