Fierce battle for airport breaks out in Ukraine's east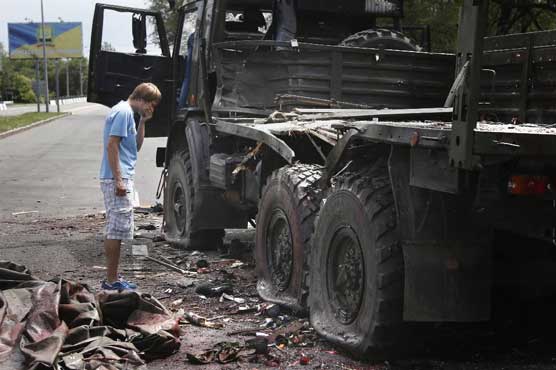 The fighting came as Ukraine made renewed accusations of a Russian military build up
DONETSK (AFP) - Heavy artillery and shelling rocked Ukraine s east on Thursday as the army and pro-Russian rebels waged a fierce battle for a key airport, forcing monitors to flee and threatening all-out conflict.
The fighting came as Ukraine made renewed accusations of a Russian military build up on its border, and approved fresh troop mobilisations in the midst of a wave of violence over recent days.
A national day of mourning was also held for 13 people killed on Tuesday when a rocket exploded near a commuter bus travelling towards the Ukrainian city of Donetsk, the worst loss of civilian life since a September truce that only partially halted the violence.
The upsurge in fighting that has rocked eastern Ukraine follows the postponement of a planned peace summit between President Petro Poroshenko and the leaders of Russia, Germany and France.
Heavy fighting shook the area around the airport in the rebel bastion of Donetsk, while pro-Kremlin insurgents had earlier been accused of unleashing a massive rocket assault.
The rebels claimed to have been on the verge of taking control of the airport, but there was no independent confirmation. Ukraine s military said in a statement on Thursday night that it was still defending the airport under heavy attack by the rebels.
An AFP journalist in Vodiane, a few miles west of the airport and where Ukrainian forces transport their dead and wounded, saw one soldier dead and five wounded. Ukraine confirmed two soldiers had been killed.
Soldiers on walkie-talkies spoke of rebel tanks unleashing heavy fire at a wall at the airport s new terminal.
Meanwhile a monitoring mission from the Organisation for Security and Co-operation in Europe attempting to reach the airport was twice forced to turn back because of heavy firing from both sides.
Deputy Chief Monitor Alexander Hug told reporters in Donetsk that the situation was "very volatile and tense."
"The OSCE mission is aware of ongoing fights and attacks with heavy weaponry from both sides all around the airport area," he said.
"These attacks are being conducted and led from either within residential areas or at the outskirts of residential areas and of course also attract counter-fire... which leads unfortunately to repeated civilian casualty and damage to infrastructure."
Continental war ?
Oleksandr Turchynov, secretary of Ukraine s national security council, evoked a dire scenario before parliament early in the day, saying a resumption of major attacks by rebels could lead to a "large-scale continental war" if Russian troops were to also become more directly involved.
But he also spoke of another possibility -- one described by a number of analysts as well -- in which Russia would continue to prevent eastern Ukraine from being stabilised, causing the ex-Soviet republic to exhaust its economic and defence resources.
Such a strategy would aim, according to analysts, at keeping Ukraine from integrating more closely with the West, with the country already suffering economically and requiring billions of dollars from world lenders.
Russia, under sanctions from the West and struggling with low oil prices, strongly denies sending troops and weapons into the war zone despite witness claims to the contrary.
On Thursday, Turchynov claimed some 8,500 Russian army soldiers were backing around 30,000 rebels in eastern Ukraine.
He also alleged that some 52,000 Russian troops were stationed near the Ukraine border along with tanks, armoured vehicles, artillery systems and combat helicopters.
In the face of the alleged threat, Ukraine on Thursday adopted a law allowing for three waves of reservist troop mobilisation this year, with the first, involving some 50,000 people, set for January 20.
The moves drew a sharp response from the separatist leader in Donetsk.
"Ukraine is preparing for war," Alexander Zakharchenko told reporters. "We are ready to respond adequately."
Je Suis Volnovakha
The wave of violence follows weeks of relative calm and served as a reminder of the war s worst clashes last summer.
The bus tragedy on Tuesday at a checkpoint at the entrance to the city of Volnovakha shook the nation. An online "Je Suis Volnovakha" campaign began spreading, in an imitation of the rallying cry used in the wake of the attack on the Charlie Hebdo satirical newspaper in Paris.
Poroshenko himself used it in a Facebook post and both sides have traded blame over the bus tragedy.
The rocket strike and renewed violence damaged Poroshenko s efforts to set up a peace summit where Russian President Vladimir Putin could personally sign a truce under which the Kremlin assumes responsibility for disarming the militias and dispelling their independence claims.
A lack of progress in talks between ministers in Berlin this week led to the summit being postponed. On Thursday, Kazakh President Nursultan Nazarbayev and Poroshenko agreed that the delayed talks set for the Kazakhstan capital Astana will take place at the end of the month.