'Outlaws' attack Libya interior ministry unit as chaos deepens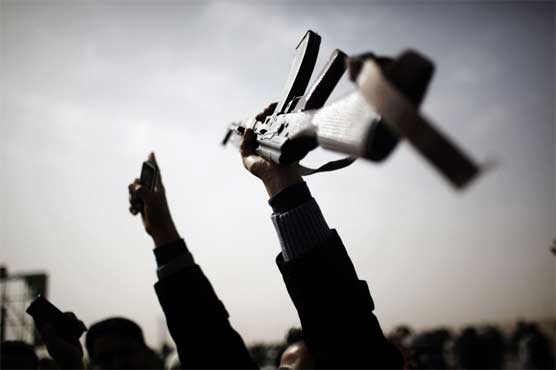 Witnesses said a pro-Islamist militia was behind the raid on the interior ministry unit.
TRIPOLI (AFP) - Gunmen attacked an interior ministry unit tasked with protecting Libya s outgoing government, officials announced Wednesday, as Washington readied a possible evacuation of its embassy amid turmoil in the North African state.
"The government strongly condemns the attack on an interior ministry force in charge of protecting the government," the cabinet office said in a statement, without reporting casualties.
The attack in Tripoli on Tuesday night was the work of "outlaws", said the government of outgoing Prime Minister Abdullah al-Thani, who has resigned and is due to hand over to his contested successor, Islamist-backed businessman Ahmed Miitig.
Witnesses said a pro-Islamist militia was behind the raid on the interior ministry unit, which opposes the nomination of Miitig, himself targeted in an attack hours earlier.
The unit, which the outgoing adminstration had called in for protection only hours earlier, was evicted from the cabinet offices.
Libya s interim parliament, the General National Congress (GNC), has passed a vote of confidence in a Miitig-led government, which critics have charged was "illegally elected" and imposed by Islamists.
On Tuesday, gunmen attacked the family home of Miitig, who was elected prime minister this month in a chaotic GNC vote, after Thani resigned in April claiming he and his family had been targeted.
The premier and his family were in the Tripoli house at the time but escaped unharmed.
Amid the political and security turmoil in Libya three years after a NATO-backed uprising ousted longtime dictator Moamer Kadhafi, the US State Department called on Americans to leave the country immediately.
"Due to security concerns, the Department of State has limited staffing at Embassy Tripoli and is only able to offer very limited emergency services to US citizens in Libya," a US travel warning said Tuesday.
"Because of the presumption that foreigners, especially US citizens, in Libya may be associated with the US government or US NGOs, travellers should be aware that they may be targeted for kidnapping, violent attacks, or death," it added.
"US citizens currently in Libya should exercise extreme caution and depart immediately."
Earlier Tuesday, the United States announced it was deploying an amphibious assault ship with about 1,000 marines off the coast of Libya in case the US embassy needs to be evacuated.
The USS Bataan was to be in the area "in a matter of days," said a defence official, who spoke on condition of anonymity, adding it was a "precautionary" measure.
The precautions come amid persistent controversy over a September 2012 attack on the US consulate in Benghazi in which ambassador Chris Stevens and three other Americans were killed.
Libya has been dogged by power struggles among rival former rebel militias and is awash with arms.
Successive governments have failed to control the myriad militias that have carved out fiefdoms across the country, and Miitig is Libya s fifth premier since Kadhafi s ouster. He is due to lead a transition until fresh parliamentary elections are held on June 25.
Miitig assumed office to already mounting opposition and with rogue ex-general Khalif Haftar gathering support for a deadly offensive he launched against jihadists in the lawless eastern city of Benghazi on May 16.
Near daily attacks blamed on jihadists have targeted security forces in Benghazi, and several military units have thrown their weight behind Haftar.
Meanwhile, jihadist group Ansar al-Sharia, targeted by Haftar who says the country has become a "terrorist hub," has called on Libyans to repudiate him.
The GNC has accused Haftar of launching a coup but he said the people had given him a "mandate" to crush jihadists after thousands rallied in his support in Benghazi and Tripoli last Friday.