Searchers face tough choices in hunt for MH370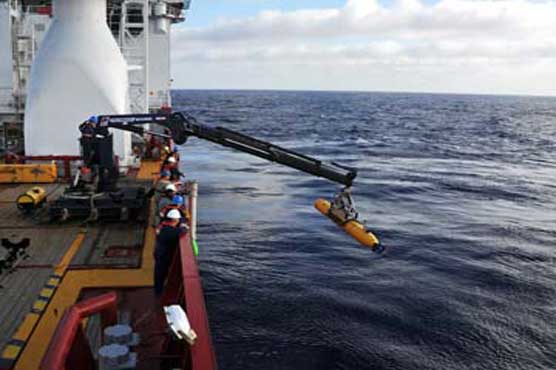 The visual search has for days been frustrated by weather related to ex-tropical Cyclone Jack.
SYDNEY (AFP) - Searchers for missing Flight MH370 face tough choices on how to proceed after almost seven fruitless weeks, with only a fraction of a deep-sea zone still left to be scanned.
After 11 dives seeking wreckage from the Malaysia Airlines jet which mysteriously disappeared on March 8, an autonomous underwater vehicle (AUV) has come up empty-handed.
"Bluefin-21 has now completed more than 90 percent of the focused underwater search area," the Joint Agency Coordination Centre managing the search said early Thursday.
"No contacts of interest have been found to date."
Australia is leading the search for the missing Boeing 777, which is believed to have crashed in the southern Indian Ocean after veering dramatically off course from its Kuala Lumpur to Beijing route.
JACC refused to speculate on what the next steps would be if the Bluefin-21 ended its 3D sonar scanning some 4,500 metres (15,000 feet) below the surface without result, but said the search would continue.
"We are currently consulting very closely with our international partners on the best way to effect this for the future," it said.
For now, it will not give up on the 400 square kilometre (154 square mile) search zone which has offered the best hopes so far of finding the aircraft, based on seabed signals consistent with those emitted by black box data recorders.
"At the moment, we are focused on pursuing the best lead we have in relation to missing Flight MH370," the agency said.
"It is important this lead is pursued to its completion so we can either confirm or discount the focused underwater area as the final resting place of MH370. This is clearly of great importance to the families of those on board."
Australia s Prime Minister Tony Abbott has said that while the search would not abandoned, it could face a "re-think". Defence Minister David Johnston has suggested a more powerful sonar scanner could be deployed.
Malaysia s Transport and Defence Minister Hishammuddin Hussein has also insisted the search for the passenger jet, which was carrying 239 people, would not stall but could move on to different technology.
"I can confirm that in fact we are increasing the assets that are available for deep-sea search... that involves commercial ventures," he told reporters on Wednesday.
"And in the next few days, we will be talking to other entities to look at the possibility of increasing the assets for the next phase," adding that these would not be deployed in the next few days.
"What is more important is that the search continues and this is an assurance we will give to the families of the passengers," he added.
The Australian Transport Safety Bureau has also reportedly suggested that the search zone could be broadened, if calculations about the plane s position when it likely ran out of fuel and crashed are revised.
"The area for focus of the search... has already been moved twice, and there s always a possibility that further work will move it again," the bureau s chief commissioner Martin Dolan told CNN.
As the painstaking aerial and surface searches over the vast and remote ocean continued, the discovery on Wednesday of potential debris on a Western Australian beach was ruled out as a lead.
The Australian Transport Safety Bureau said the unidentified material found on the far south coast of Western Australia was not associated with MH370.
The JACC said up to 11 military aircraft and 11 ships would assist in the search on Thursday, with most concentrating on a visual search of 49,567 square kilometres (19,138 square miles) some 1,584 kilometres (984 miles) northwest of Perth.
The visual search has for days been frustrated by weather related to ex-tropical Cyclone Jack, and authorities said it could again be suspended with sea swells expected of three to four metres.