NATO airstrike kills five Afghans including three children
Last Updated On 05 October,2013 About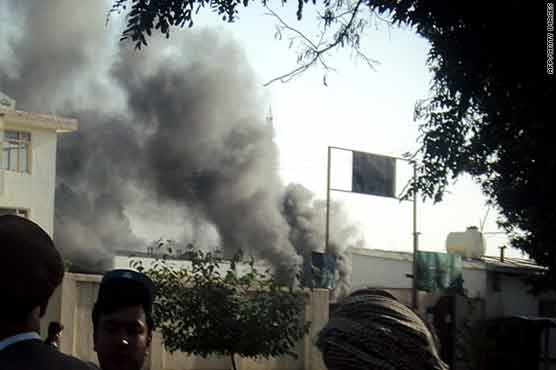 Civilian deaths have long been a source of friction between the Afghan government and NATO troops.
JALALABAD (AFP) - At least five civilians, including three children, were killed overnight in a NATO airstrike in eastern Afghanistan after they went hunting for birds with air guns, local officials said Saturday.
In a separate incident in the south of the country a security guard shot dead a member of the US-led NATO forces at a coalition military base, an Afghan official said.
After the airstrike near Jalalabad, the capital of Nangarhar province, Afghan men were seen by an AFP photographer burying their dead, shouting "Death to America" and "Death to Karzai".
But a NATO spokesman said Afghan and Coalition forces had responded to an attack with a "precision strike" and that "initial reports indicate there were no civilian casualties".
Civilian deaths have long been a source of friction between the Afghan government and US-led NATO troops, who are winding down operations as they prepare to withdraw by the end of next year.
"Last night around 11:00 pm, five civilians aged between 12 and 20 carrying air guns wanted to go hunting birds some eight kilometres (five miles) from the centre of the city of Jalalabad. They were targeted and killed by a foreign forces airstrike," provincial police spokesman Hazrat Hussain Mashreqiwal told AFP.
Lt Col Will Griffin told AFP that "while we are still assessing the situation, our initial reports indicate there were no civilian casualties".
"We can confirm that Afghan and Coalition forces responded to an attack and conducted a coordinated precision strike against insurgents in Behsud district, Nangarhar province yesterday," he said.
Mohammad Atif Shinwari, a spokesman for the Nangarhar education department told AFP that three of the victims were school children and two were brothers.
In a separate incident on Saturday, NATO said an "alleged contracted security guard" opened fire and killed a member of the US-led coalition forces in southern Afghanistan before he himself was shot dead.
The statement did not provide any further details, including the nationality of the perpetrator or that of the victim.
An Afghan official however said the shooting occurred at a coalition military base in the southern province of Zabul, which is known as a hotbed of Taliban insurgency.
"According to our reports, the security guard opened fire after some problems and disputes with the NATO forces inside the military base," provincial deputy police chief Ghulam Jilani Farahi told AFP.
Attacks of this nature, locally known as "insider" or "green on blue" are common in Afghanistan where Afghan troops, some of them reportedly affiliated to insurgent groups, turn on NATO and US allies.
Last year saw a surge in such attacks, with 48 recorded, undermining trust as NATO troops attempt to train local forces ahead of the coalition s withdrawal by the end of 2014.
Last month, a NATO airstrike killed at least 16 civilians including women and children in Kunar province in eastern Afghanistan, according to local officials. The airstrike hit a pickup truck and killed all on board, Afghan officials said. NATO said the strike had killed militants.
Tens of thousands of civilians have been killed in Afghanistan since the Taliban launched their insurgency in 2001 after being ousted in a US-led invasion.
In another incident on Saturday, a roadside bomb ripped through a civilian vehicle in the western province of Farah killing at least three people, including a tribal elder.
"Unfortunately, three civilians, including an influential tribal elder, his son and a relative were killed in the explosion," provincial spokesman Abdul Rahman Zhawandai told AFP.
No one claimed responsibility for the attack, but roadside bombs have been the Taliban weapon of choice.
As Afghan security forces take charge of security responsibility countrywide, violence has been on the increase.
More than 1,000 civilians were killed and around 2,000 others were injured in the first half of 2013, according to a UN report, a 23 percent increase from the same period last year.
---
---
Advertisement