'Like Waze, but for toilets': A start-up hoping to solve Paris' public urination problem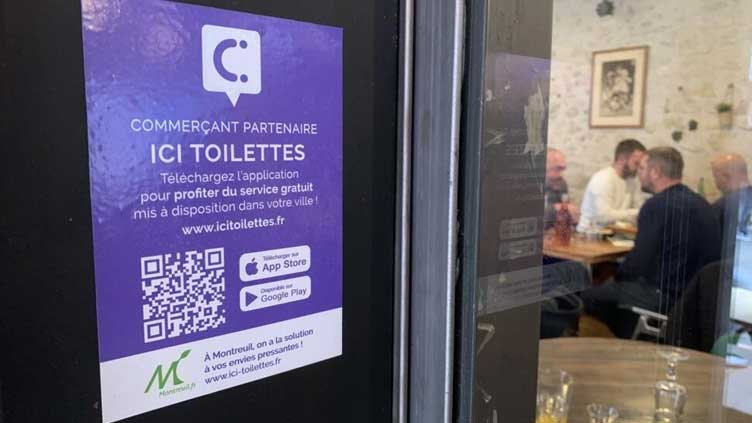 WeirdNews
Public urination is high on the list of critiques of the French capital, along with rats and noise
Paris, France (AFP) - A new application that rewards businesses for making their toilets accessible to the public and helps users to find them is being rolled out in a Paris suburb.
If everything goes to a plan, the ICI Toilettes app could make its way into the capital – right in time for the Olympics.
Public urination is high on the list of critiques of the French capital, along with rats, noise, and people not picking up their dogs' business.
Referred to in France as le pipi sauvage, or "wild peeing", the propensity for public urination – which is technically illegal and mainly male – is explained by many factors, though a lack of available public toilets is a fundamental one.
Over the years, Parisian leaders have proposed a number of innovative solutions but, so far, to no avail. In 2018, for instance, certain arrondissements (districts) introduced bright red, eco-friendly uritrottoirs, public installations whose name was a portmanteau of the French words for "urinal" and "sidewalk".
They were criticised for being too visible and only useful for men, and then vandalised by protesters.
The newest scheme to combat the ongoing problem comes from a start-up from the western city of Nantes called Urban Services.
ICI Toilettes ("Toilets HERE") has two main functions. First, it is a geolocation application that helps users locate public toilets and allows them to update the status of the facility if it is in disrepair.
This helps members of the public find the closest functional bathroom in real time and keeps local authorities informed about the state of the city's sanitation infrastructure.
"It's like Waze, but for toilets," says founder and Urban Services CEO Thomas Herquin, referring to the crowd-sourced traffic app.
The app's second function is to create a network of local businesses that extend their facilities to the public, all of which are visible on the application. This expands the city's sanitation capacity by making certain bars and restaurants de facto public toilets.
These "partners" are given €100 each month by the local authorities for their participation – ICI Toilettes says this is one-twelfth the cost of setting up and maintaining a public restroom.
First launched in 2021 in Nantes, the application has now made it to the populous suburb of Montreuil on the eastern edge of the capital. The service is set to be rolled out in Grenoble and Urban Services is currently in talks with Saint-Denis, the municipality just north of Paris.
The big prize, Paris, is also in view, as France makes a big investment push before the 2024 Olympic Games. In late September, the start-up was awarded a conditional grant by the ministry of tourism.
Urban Services stands to earn between €100,000 and €200,000 if it manages to set up a network of 100 partner retailers in Paris by June 15, 2024 – a number Herquin says will raise the capital's public toilet capacity by 25%.
The idea for the app came to Herquin when he was searching for ideas to enter a start-up competition in Nantes that he ended up winning. For market research, he surveyed people on what they thought were the biggest problems they face while commuting.
The first was their ability to charge phones, the second, and much more difficult to resolve, was access to sanitary facilities.
Herquin maintains that the restaurants and bars that share their toilets should be considered "complementary" to what is already in place in the city. However, he adds, his application does provide its own benefits.
"According to our research, 85% of women do not use public toilet facilities for several reasons (like hygiene and comfort) so we offer them another option," says Herquin.
Public urination, Herquin points out, is a serious issue with serious financial consequences. "In Paris alone, 56,000m2 of walls and doors are ruined by urine every month. That can be very costly," he says.
On whether his business has the potential to help resolve the issue, he is less certain. "The main people who require our services are women. Men seem to have found a solution already, although it is not very clean," Herquin says. "But we do hope, with time we can help change the culture."
What's more, ICI Toilettes gives people the confidence to go and ask businesses to use their bathrooms, a feature that will particularly serve tourists who are unfamiliar with the French language or their customs related to restrooms.
In Montreuil, finding the ICI Toilettes sticker is increasingly easy. The service has now been adopted by 10 businesses. For Putsch café in central Montreuil, signing up with ICI Toilettes doesn't seem to have changed much except for an extra €100 in the cash register each month.
"I know some restaurants can be strict, but we've always been open," says Laurine Ragot, a server at the café. "But we have seen an increase since the app, especially women and people with children desperate to pee."
ICI Toilettes is a welcome change in a city where authorities have long been criticised for the lack of public sanitation infrastructure. Women's association Maison des femmes de Montreuil recently described the situation as a "hygiene scandal" in French daily Le Parisien.
Since signing on with Urban Services in June, "Montreuil has gone from seven public toilet facilities to 17," says Montreuil's Deputy Mayor Luc Di Gallo.
For now, the businesses signed up to ICI Toilettes are concentrated in the city's centre. The plan is to increase this number and distribute participating establishments more equally throughout the city.
But ICI Toilettes is no silver bullet, says Di Gallo. People cannot access the app without a smartphone, and it wouldn't be a viable option for businesses near busy areas like markets, which are unlikely to sign up because they could be inundated by the public.
"For instances like this, it's probably better to build public toilets that can [serve] significantly more people."
As part of a larger strategy, the response from the public has been "extremely positive", says Di Gallo, adding that it makes the city more inclusive by meeting the needs of "women, the elderly and disabled people", who have described the difficulties they encounter when out in public with no access to facilities.
"Of course, we also hope that those who degrade our public spaces will now be more inclined to use a toilet," Di Gallo says.