Reporter who hates February goes viral again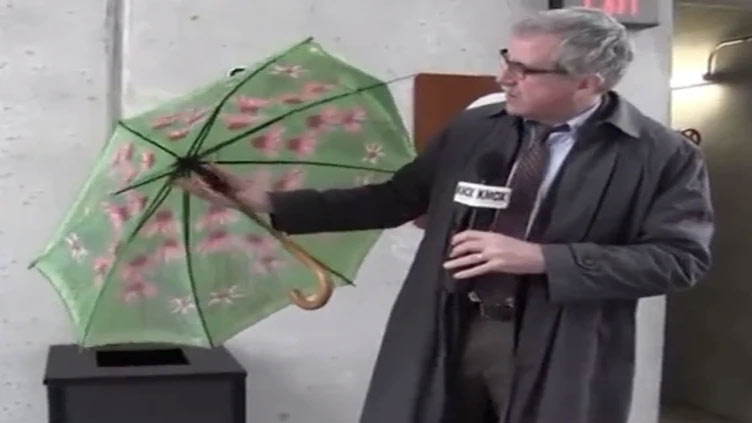 WeirdNews
He then moves on to the street.
ST LOUIS (Web Desk) - A St. Louis reporter who understandably doesn't think much of February has gone viral again.
Kevin Killeen of St Louis' KMOX first told viewers he thought February was the worst month of the year back in 2016, according to FOX.
"February is the worst month of the year, but it's an honest month. It's a month that doesn't hold up life any better than it really is," Killeen begins the piece.
Standing atop a parking garage, he looks out at a bunch of dark industrial office buildings and says, "Something great happened here, but it's over with — and that's the way February is."
Heading to the bottom of the garage, Killeen finds a broken green umbrella with a pink floral pattern stuffed inside a trash can. He warns that the "expedition" through February had become dire and somebody had abandoned the umbrella like a "desperate flinging off of something that's not true anymore."
He then moves on to the street.
"If you notice the way people cross the street in February, it's different than in the summer. Nobody is tap dancing or breaking into a Rodgers and Hammerstein song," Killeen says. "It's their lunch hour and they're just barely able to get across the street and hunker over a bowl of chili."
Eventually Killeen signs off from the segment with words of wisdom from his father. "If you can live through February, you'll live another year."
Speaking with The Guardian last February, Killeen said the segment was initially intended to be a "throwaway piece" and credited KMOX for giving him the editorial freedom to make it. He said the segment's success should be a lesson to new editors.
"They don't know half the things their people could create for them if they just let them be creative," he said. "News editors are always saying what's on the wire, or what's on the New York Times when they could be asking, what can you not stop thinking about? What have you been talking about at parties?"