The Photo-Like fire-painted portraits of Alex Peter Idoko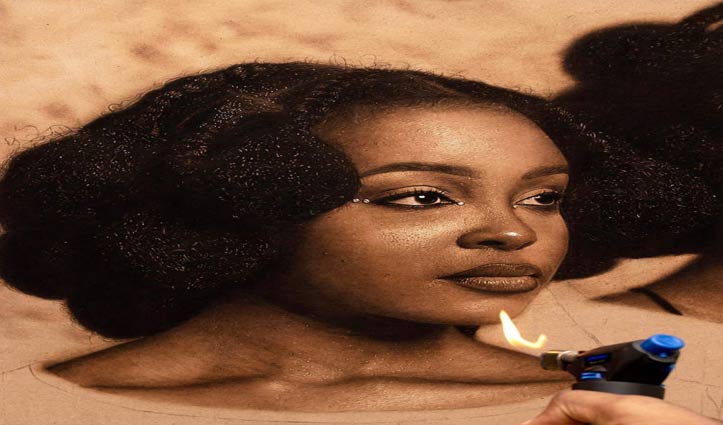 WeirdNews
Pyrography, or painting with fire, is an intriguing art form.
NIGERIA (Web Desk) - Nigerian artist Alex Peter Idoko uses fire, razorblades and sandpaper to create stunningly-realistic portraits that look more like sepia-toned photos.
Pyrography, or painting with fire, is an intriguing art form that involves the decoration of a wooden canvas with burn marks resulting from a controlled flame or heated instrument, like a poker. It's a less forgiving art than traditional painting, as mistakes are much harder to fix or hide due to the destructive nature of fire. However, some artists control the unusual medium so well that they can create photo-quality artworks that are almost indistinguishable to the naked eye.
31-year-old Alex Peter Idoko has been passionate about portrait art since childhood. He practiced in graphite, charcoal, and pastel for a long time, but he ultimately gravitated to pyrography because of its powerful visual effect.
Idoko usually spends at least a month, sometimes several months, working on a single one of his pyrography creations, and looking at the end result, it's easy to see why. His subjects look ready to jump off of the canvas, featuring even the tiniest of facial details, like wrinkles.
"My themes are based on African realities, the freedom, advocacy for change, and solutions to challenges," the Nigrian artist told Beautiful Bizarre. "Art is a language that people can read. As long as you connect and interpret your heart, people will always understand that language."
It's hard enough creating hyper-realistic portraits with conventional drawings and painting tools, but even more so when you're willing hot pokers and gas-powered torches instead of paint brushes or crayons. Still, he relies on fire to create stunning portraits, primarily of black people. After burning the wooden canvas, he uses razor blades and sandpaper to lighten up his customers' complexion.