Man blasts homeless woman with hose, arrested for battery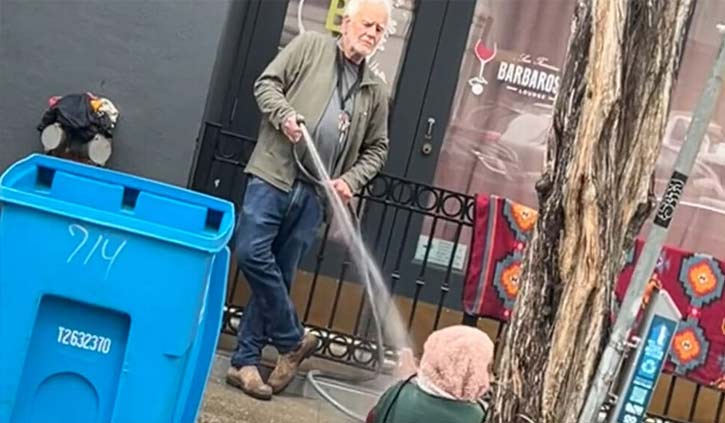 WeirdNews
Gwin now faces up to six months in county jail as well as a $2,000 fine if convicted.
SAN FRANCISCO (Web Desk) - A gallery owner who sparked worldwide outrage after a video of him spraying a homeless woman with a hose went viral has been arrested.
Collier Gwin, the owner of Foster Gwin art gallery in San Francisco was arrested for battery around 3:30 pm Wednesday, hours after the city s DA said he would face charges.
The video, filmed on January 9, shows Gwin nonchalantly leaning against a gate while he turns the hose on the homeless woman sitting on the sidewalk outside his gallery - it has been viewed millions of times.
The footage sparked a massive public outcry, with social media users hunting and successfully identifying Gwin, who has since defended his actions to journalists, claiming he was 'helping' the woman.
The San Francisco District Attorney s Office announced on Wednesday that a warrant for Gwin s arrest had been issued, with cops confirming he was being held on the misdemeanor charge hours later.
Gwin now faces up to six months in county jail as well as a $2,000 fine if convicted.
San Francisco DA Brooke Jenkins revealed that the unnamed woman who was filmed being doused with a stream of water by Mr Gwin, had not sought to file charges against the store owner. However, Jenkins added: "The alleged battery of an unhoused member of our community is completely unacceptable."
She also slammed vandals who had smashed in the door of Gwins store after the footage went viral. "The vandalism at Foster Gwin gallery is also completely unacceptable and must stop," she told citizens: "Two wrongs don t make a right."
The gallery, which opened in 1984 and has served A-list clients like Arnold Schwarzenegger, has been 'review bombed' online by outraged social media users who have filed scores of awful reviews causing the gallery s rating on Google to plunge to just one star.
When confronted by reporters an unrepentant Gwin said that when he asked the woman to move, she became belligerent and refused.
"I said you have to move, I cannot clean the street, move down, Gwin told The San Francisco Chronicle.
"She starts screaming belligerent things, spitting, yelling at me... at that point she was so out of control... I spray her with the hose and say, 'Move, move. I will help you.'"
He added that he had previously attempted to call police and other government agencies to try and get help for the woman, who had been staying on the sidewalk for days, but said he stood by his actions.
You know, spraying her s not the solution, but spraying her was something that woke her up, and that calmed her down, Gwin said.