Couple swap house for narrowboat saving up for their dream home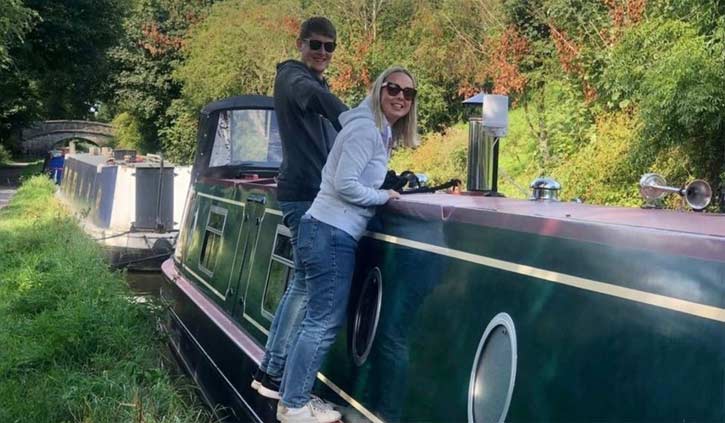 WeirdNews
"It's the space for most people but I think once you're used to it it's fine.
MANCHESTER (Web Desk) - A young couple who have decided to swap their three-bedroom home for a 65ft narrowboat has said the savings will be "massive".
Ellie Jones and Harry Barker, both 28, are leaving dry land behind in favour of a home on the water and are preparing for a "completely different way of life".
The newly engaged couple are set to move on to the boat, named Shirley, in March and will be based in Northwich, Cheshire, during the week while they ll spend their weekends exploring cities like Liverpool and Manchester.
They think the move could end up saving them between £800 to £1,000 a month, which they plan on eventually using to buy their dream house on land.
Ellie told the Liverpool Echo: "We thought if we don t do it now we probably never will. To say we ve lived on a boat and explored that is a bit of a one-off.
"We ll definitely do a year and see how we go on after that. I don t think we ll do it for over five years. The savings are going to be massive."
The narrowboat was bought by Ellie s parents in 2020 and they were looking at selling it due to expensive maintenance costs to keep it in the water.
But they ll now rent it out to Ellie and her fiancé, who will pay to live on the boat while renting out their home in Northwich.
The plan is set to save them a heft amount of money, Ellie added: "We think together we ll both probably be able to save, compared to what we spend at the moment, £800-£1,000 a month.
"But obviously we ve got a good deal that my parents don t want as much for the boat as it necessarily would be to rent one out monthly."
The couple will have to fork out £250 to keep the boat on the marina near where they live and estimate that their electric bill will cost them £45 a month.
Ellie said: "We ll save money on utilities but you re also a lot more aware of what you re using as you have to top up your electricity money instead of it going out as a direct debit.
"You re really wary of how much water you use because you have to fill up the water tank every time it s empty. You can get eight showers out of one tank. We re always wary of how many times we flush the toilet."
Ellie will work from home while living on the boat while Harry plans to commute to work, the couple are hoping to use their savings to buy a house in Altrincham, Greater Manchester, in the future.
Ellie said that while some people think they re "absolutely crazy", she believes "it will be a really lovely experience."
She added: "It s the space for most people but I think once you re used to it it s fine.
"It s such a small space, when the heating is on it s a lot cosier than your typical house. It s a completely different lifestyle - you feel so much more relaxed."