Four-year-old claims to be Princess Diana reincarnated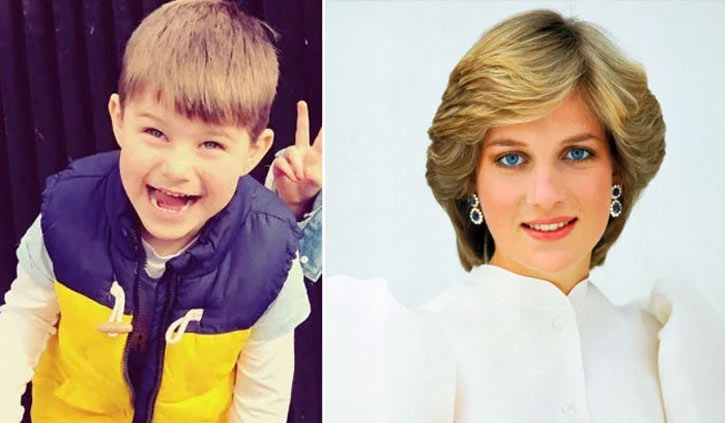 WeirdNews
Billy's dad, David. recalls: "He started to refer to his two 'boys'.
AUSTRALIA (Web Desk) - Billy Campbell, the son of Australian TV presenter David Campbell, believes he is in the reincarnation of the late Princess Diana.
The young boy was born 18 years after the princess s death in 1997 and he claims to remember memories of her life.
Despite Billy not being taught anything about the royals before he made his comments about the princess, his bizarre comments continued.
On one occasion, Billy told his family he had a brother named John (Princess Diana s brother John died before she was born) and another where he mentioned his two boys - i.e. William and Harry.
Billy s dad, David. recalls: "He started to refer to his two boys .
"When asked what boys, our then three-year-old would say his sons . Ok... strange, but sure, mate."
David initially made the wild claims about his then-four-year-old in a column for Stellar Magazine in 2019, which he described as the "weirdest" thing he d ever written.
In the article, he begins by stating that Billy first started talking about the famous royal at the age of two, with the toddler pointing to an image of her on a card and exclaiming, "Look, it s me when I was a princess."
On another occasion, the youngster also managed to accurately describe what Balmoral Castle, the late Queen s favourite residence, looked like - without ever having seen it for himself.
"To a Scottish friend of ours, he claimed when he was Princess Diana he used to go to a castle in that kilted wonderland. He described the castle as having unicorns on it and was called Balmoral," the dad said.
"The unicorn is the national animal of Scotland and there are unicorns on the walls, how does he know this??? "
A few years ago, Billy shocked his family once again when he discussed Diana s passing.
The late Princess of Wales, who was married to Prince Charles between 1981 and 1996, was tragically killed in a car crash in Paris on August 31, 1997.
"Lisa showed him another photo of Diana," adds David. " Billy said: There s me as a princess. Then one day the sirens came and I wasn t a princess anymore. "
As David concluded his column, he asked: "Will Billy grow up and never remember this?
"Could he actually be the reincarnated essence of the People s Princess?"
Since the 2019 declaration, it appears that the boy hasn t said anything else about the reincarnation.
However, this is not the first time a young boy has shared memories from a past life of someone in the public eye.
Ryan Hammond from Oklahoma, USA, has stated that he has vivid memories of being an esteemed Hollywood movie star in a past life.
The young boy first made the claim back in 2015 when he was 11 years old, stating that he was the reincarnation of a man who had passed away 40 years before he was born.
He reminisces of a past life where here lived Hollywood during the 1940s and even explained in detail how he had died, claiming he remembered his heart "exploding" - and then going towards the light.
His wild claims noticeably shocked his parents, and soon made national press in the US as the family appeared on daytime TV multiple times.
In his claims, the young boy stated that he was once Marty Martyn; a former movie extra and a powerful Hollywood agent.
The acclaimed star once lived a life of luxury in New York City with a host of famous friends and married four times before his death in 1964 from a brain haemorrhage.