Women in India host frog wedding for rainfall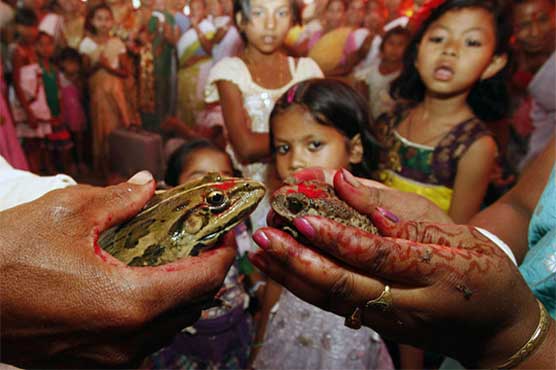 Villagers in Assam performed frog wedding to deal with rain shortage.
ASSAM (Web Desk) – Women in India married off frogs hoping that it would bring some rain and end their sufferings arising out of a protracted dry spell in India's northeastern region.
Frog weddings were organised by Rongdoi village community in Assam's Jorhat district in a bid to invoke rain for the harvest season.
Two groups of women separately bath the males and female frogs, and then dress them in clothes and jewellery for the wedding.
The bride is even made to wear a handmade necklace during the ritual conducted by a Hindu priest.
---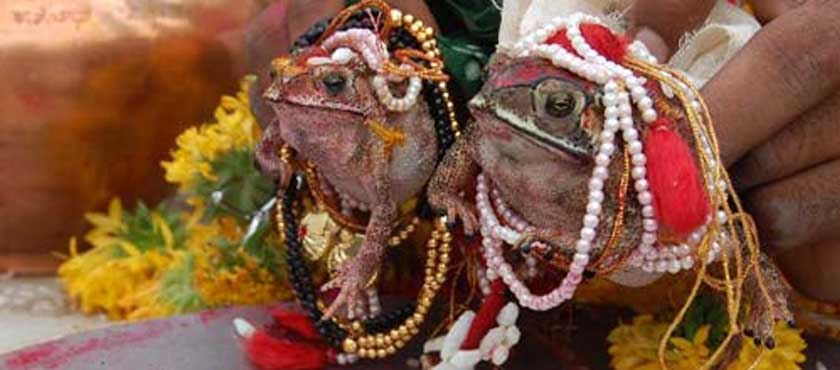 ---
There is a mythological belief among Hindus that if wild frogs are married off with Vedic rites and traditional marriage rituals like human beings, it can help bring rainfall in the coming days.
Thousands of farmers are facing a drought like situation throughout the state as the monsoon rain is eluding to hit the plains of Assam for almost a week.
Cultivation of tea, rubber, paddy and other crops has been severely affected due to the dry spell in the areas.