TikTok congressional hearing: CEO Shou Zi Chew grilled by US lawmakers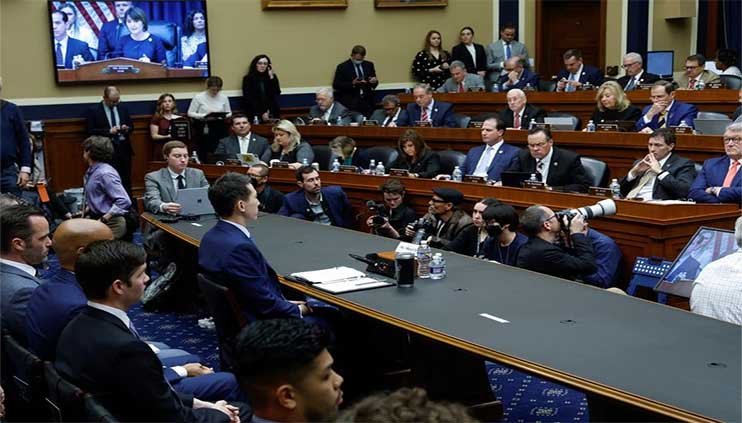 Technology
US lawmakers shown disapproval of TikTok CEO's clarifications.
WASHINGTON (Reuters) - U.S. lawmakers on Thursday battered TikTok's chief executive about potential Chinese influence over the platform and said its short videos were damaging children's mental health, reflecting bipartisan concerns over the app's power over Americans.
CEO Shou Zi Chew's testimony before Congress did little to assuage U.S. worries over TikTok's China-based parent company ByteDance and added fresh momentum to lawmakers' calls to ban the platform nationwide.
Over five hours of testimony, Chew repeatedly denied the app shares data or has connections with the Chinese Communist Party and argued the platform was doing everything to ensure safety for its 150 million American users.
Chew said TikTok for more than two years has been "building what amounts to a firewall to seal off protected U.S. user data from unauthorized foreign access. The bottom line is this: American data stored on American soil, by an American company, overseen by American personnel," Chew said.
But not a single lawmaker offered support for TikTok or sympathy for Chew's reassurances, as they deemed his answers on China evasive and aired concerns over the power the app holds over U.S. children. Some Congressmen also accused TikTok of promoting content that encourages eating disorders among children, illegal drug sales and sexual exploitation.
"TikTok could be designed to minimize the harm to kids, but a decision was made to aggressively addict kids in the name of profits," said Representative Kathy Castor, a Democrat, at the House of Representatives Energy and Commerce committee hearing.
Chew responded to many pointed questions by saying the issues were "complex" and not unique to TikTo, but, the critics were not appeased as the company failed to announce any new efforts to safeguard privacy.
The company says it has spent more than $1.5 billion on data security efforts under the name "Project Texas" which currently has nearly 1,500 full-time employees and is contracted with Oracle Corporation to store TikTok's U.S. user data.
Chew, who began his testimony by referring to his Singaporean roots, said: "We do not promote or remove content at the request of the Chinese government."
He added: "It is our commitment to this committee and all our users that we will keep (TikTok) free from any manipulation by any government." He said the app strictly screens content that could harm children.
It is not clear how lawmakers will proceed after the hearing or how quickly they might move to pass legislation to strengthen the Biden administration's legal powers to ban TikTok.