Last Updated On 05 December,2015 10:40 pm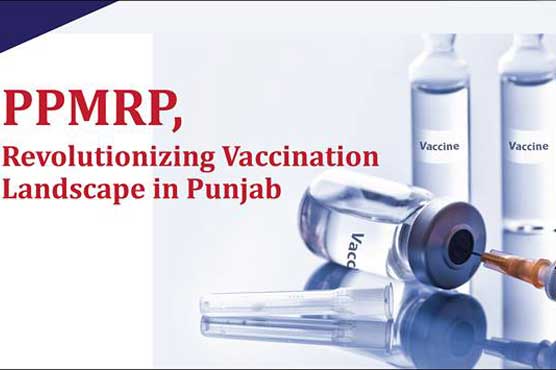 We have witnessed a sea change in the way vaccination is done, says Dr. Umar Saif
LAHORE: (Web Desk) - To help Punjab Health authorities track progress and set targets on vaccination move, Punjab IT Board (PITB) has developed a smart phone application, funded by the World Bank that allows vaccinators to quickly register every booster on a central data hub. It was stated by the Chairman PITB Dr.
Addressing a meeting to review the performance of the e-Vaccs project in his office on Tuesday, Umar Saif said "results have been impressive. We have witnessed a sea change in the way vaccination is done. Vaccinators used to meet 21% of their targets in past but with the new app, this has increased to 91% in just three months." Dr. Saif said that the project executed under Punjab Public Management Reforms Program, aims at increasing transparency and efficiency through smart monitoring of field staff and disseminating information about through toll free helpline 0800-99000 and departmental websites. He told that the e-Vaccs app is being used by 3700 vaccinators across Punjab, enabling the authorities to monitor Vaccinators' attendance, area coverage, number of children vaccinated and number and type of vaccine administered.
"The app has showed a deep impact as the vaccinators' attendance has risen from 22% to 98% since it was rolled out in October 2014 till April 2015. An average e-Vaccs dashboard is accessed 7000 times a day while in order to keep stakeholders posted on immunization activities, daily text alerts are sent to the Executive District Officers (EDOs) Health while District Coordination Officers (DCOs) and Secretary Health receive this service on weekly and monthly basis respectively resulting in a fool proof monitoring system," he added. Dr. Saif said that the phase II of e-Vaccs program had been rolled out initially in three districts i.e. Multan, Vehari and Gujranwala that has 427 users since May 2015 and would be extended to the entire province ultimately.
PITB Chairman said "The second phase comprises of upgraded and user friendly mobile application that would enable to register the images of the children with parents' name and address, jabs and frequency of vaccination. The additional key indicators of phase II contain vaccination coverage by area and population, digital data base of vaccinated children and maintaining their history. The satellite imagery will help us form household clusters in target areas and locate the unvaccinated children immediately."
Dr. Saif said that the e-Vaccs was winning local, interprovincial as well as international recognition as the Khyber Pakhtunkha Government had requested to execute it in KPK. The fourth international donor on vaccination-Gavi has a published a report that refers to the Health Manager Jehlum Dr. Captain Asif as he is optimistic by saying "We are really pleased with the new system. Our experience has been a good lesson for the rest of Pakistan!"
The report further validates "Punjab's plan marks a milestone in the country's long journey to eradicate polio and strengthen routine immunization systems. Dr. Saif, Mr. Akhtar and Dr. Asif are all positive about its potential to work in other provinces, because, says Dr. Asif, "it is making vaccines accessible at the doorstep of each child". The CEO of Gavi, the Vaccine Alliance Dr. Seth Berkley tweeted about e-Vaccs as "A simple vaccine tracking app for health workers will help make vaccines work better in Punjab #Pakistan". Another global recognition has been reflected in the US based Nielsen Survey Immunization has published a report on Punjab Health Roadmap Results in August 2015 that says, "Immunization coverage in Punjab improved dramatically between December 2014 and June 2015".