Messi 'madness' in Argentina as world champions play first match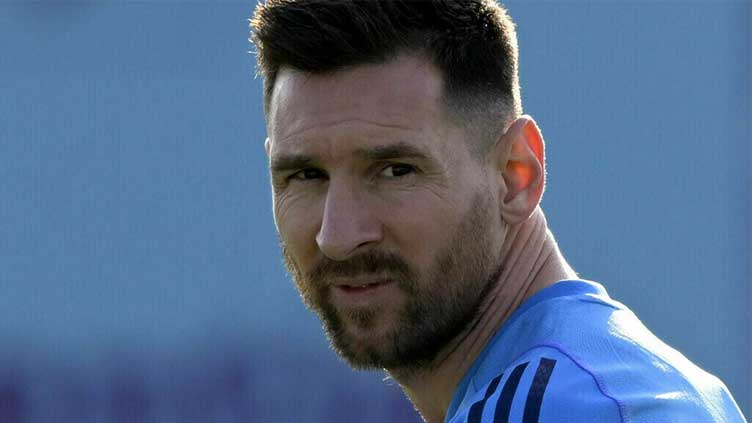 Sports
More than 1.5 million fans applied for 63,000 available tickets for the match against Panama
BUENOS AIRES (AFP) - Lionel Messi and his Argentina teammates will make a triumphant return in their homeland on Thursday when they play their first match since winning the World Cup in Qatar.
More than 1.5 million fans applied for 63,000 available tickets for the match against Central American minnows Panama at the Monumental stadium in Buenos Aires.
Football-mad Argentines were out in even larger numbers following the Albiceleste's dramatic penalty shoot-out victory over France in December. An estimated five million people thronged the streets of Buenos Aires a few days later for the trophy parade.
Such was the multitude that the parade had to be abandoned long before it reached central Buenos Aires as it was already hours behind schedule.
Messi had been widely expected to retire from international football after the final in Doha, in which he scored two goals and a shoot-out spot-kick, but the Paris Saint-Germain forward said he wanted to carry on a bit longer so he could wear the blue and white Argentina jersey as a world champion.
"He is in good shape, he wants to keep coming. When he tells me that he doesn't feel good, we'll see," coach Lionel Scaloni said on Tuesday. "At the moment he is happy with the national team."
The expectation was slightly soured earlier this month when two men fired shots at a closed supermarket belonging to the family of Messi's wife, before leaving a menacing message aimed at the seven-time Ballon d'Or winner.
"Messi, we're waiting for you. Javkin is a narco, he won't take care of you," said the handwritten message left on the ground, in reference to Pablo Javkin, the mayor of Messi's hometown Rosario, around 320 kilometers north of Buenos Aires.
Messi, though, has taken it all in his stride, as his father pointed out. "I spoke to the kid and he told me: 'relax'," Jorge Messi told reporters. For the mayor of Rosario, it was more of a publicity stunt than a genuine threat.
"What story goes more quickly viral in the world than an attack on Messi?" said Javkin. While it may not directly affect Messi, the incident did highlight a growing problem in the 35-year-old's home town. Rosario is a port city on the Parana river that has gradually become a nerve center for drug trafficking and the most violent city in Argentina, with 287 murders in 2022.
A party atmosphere is expected in Buenos Aires for the team's competitive homecoming. With 20,000 places in the 83,000-capacity stadium reserved for invitees, the remaining tickets were snapped up within two hours of going on sale.
The cheapest cost 12,000 pesos ($60) up to 49,000 pesos ($245), which is more than half the average monthly salary in the South American country. Argentine football federation president Claudio Tapia said the body had received more than 130,000 requests for media accreditation, in a stadium that has capacity for just 344 journalists.
"We would love to be able to accommodate everyone, but we would need two … stadiums, just for journalists. The madness for Argentina is total," said Tapia.
Those not lucky enough to get inside the stadium will at least be able to watch the match for free on television after the government decided to broadcast it freely.
"The aim is to keep playing at the same level," he said. "Now, it will be harder than ever because everyone will want to beat us." After Thursday's match, Argentina will play the island of Curacao on Match 28 in Santiago del Estero.