Swiatek calls for more support for Ukrainian players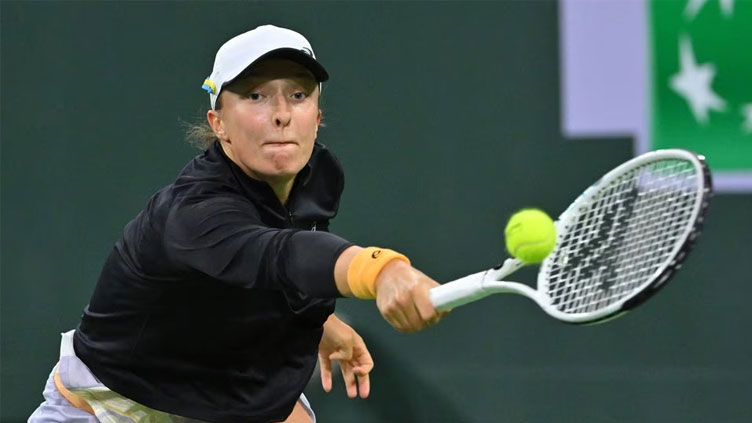 Sports
Poland's Swiatek has previously condemned Russia's invasion
Indian Wells (Reuters) - World number one Iga Swiatek has called for more support to be offered to Ukrainian players on the women's tour after Lesia Tsurenko said she withdrew from her match against Belarusian Aryna Sabalenka at Indian Wells due to a panic attack.
Tsurenko said the attack was triggered by a chat she had with WTA Chief Executive Steve Simon about tennis's response to Russia's invasion of Ukraine. Belarus has been a key staging ground for what Moscow calls a "special military operation".
Poland's Swiatek, who wears a Ukrainian flag on her cap during matches, has previously condemned Russia's invasion and said the action taken by the tennis leadership had not been enough.
"I totally understand why she withdrew, because honestly I respect Ukrainian girls so much. If a bomb landed in my country or if my home was destroyed, I don't know if I could handle that and compete," Swiatek said.
"You have to really mentally be there to compete every week. So I get that she wasn't ready to do that.
"I feel more should be done to help Ukrainian players because everything we discuss in tennis is about Belarusian and Russian players, if they should be allowed, what's going on with them.
"I don't think that's right, because we should focus more on helping Ukrainian players and providing them everything they need because they basically have to take care of all their families, and there's a lot of baggage on their shoulders."
Swiatek had also criticised Anastasia Potapova after she sparked outrage by wearing a T-shirt of Russian soccer team Spartak Moscow before her match against Jessica Pegula.
Swiatek said such situations could have easily been avoided.
"At the beginning we didn't have proper leadership to guide us through all of that," Swiatek said. "There's a lot of tension in the locker room that obviously is going to be there because there's a war.
"But maybe it should be a little bit less if WTA put some action at the beginning to explain to everybody what's right and what's not."