World Hockey XI to play two-match series in Pakistan from Jan 18, 2018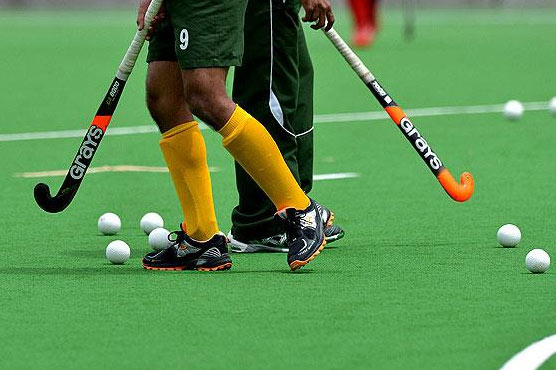 Brig Khokhar said the World XI would play one match each at Karachi and Lahore during its visit
LAHORE (APP) - Star-studded World Hockey XI will be touring Pakistan from January 18 to 21 to play a two-match series against Pakistan senior team.
This was stated by Pakistan Hockey Federation President Brig (retd) Khalid Sajjad Khokhar while addressing a press conference, along with PHF Secretary Shahbaz Ahmad and Rao Umer Hashim, Group Director, Trans Group, the marketing company of the event here on Tuesday at National Hockey Stadium.
Brig Khokhar said the World XI would play one match each at Karachi and Lahore during its four-day trip. He said the foreign team was scheduled to visit Pakistan from January 10 and the tour has been put forward for eight days to ensure the availability of the players.
"The foreign team, which is a blend of world's known hockey players, will be arriving Karachi and playing its first match at Abdul Sattar Edhi Stadium on January 19," he said.
He said the team would play its second match on January 21 at Lahore. "Karachi's match will be played under light and the match in Lahore will be a day affair."
The PHF president said a special function of nomination of world's former top notch players for the 'Hall of Fame' will be held at Karachi and a number of foreign and home players will be honoured with their induction in the Hall of Fame.
"The prime objective of induction of players in the Hall of Fame is to develop a new culture in Pakistan hockey and to give recognition to those foreign and home players who excelled in the game at highest level," he said adding "It will be big step forward to motivate the youth to take up hockey as a sport and to revive the game in Pakistan," said the PHF president.
The PHF president said tour of World XI will portray a soft image of Pakistan sending a positive message to the world that Pakistan is a safe country for staging elite sport events.
To a question, Brig Khokhar said the World XI will be comprising players from Australia, Germany, Holland, Belgium and Spain.
The PHF chief said the tour of the World XI will be a way forward to bring back international hockey to Pakistan and to organise the Pakistan Hockey League in April next year in a befitting manner.
"With the tour of World XI, we will be enhancing our organisational capabilities and allied aspects in order to organise the PHL in a professional way," he said. The World XI will be comprising 15 to 16 players. Pakistan's former hockey captain, Sohail Abbas will also be part of the World XI.
"The government has issued NOC for hosting the World XI and the PHL and we will be generating necessary funds from the sponsors for holding both the events in a trend-setting way," said PHF official. Rao Umer Kashim of Trans group said that hockey is a dying sport in Pakistan which badly needs the attention of sponsors and business houses.
"The World XI tour will infuse a new life in hockey as it has its significance in many ways as it will motivate the youth to play hockey and will help in unearthing new talent and to add to the ability of PHF for holding PHL in a professional."
He said they have come forward to market this event to join hands with the PHF for achieving a sole objective of reviving hockey in which Pakistan is struggling both at home and abroad due to poor performance of the team which is at a low ranking of world number 14th, he added.