Balochistan declares 'all-out war' against terror following Mastung bombing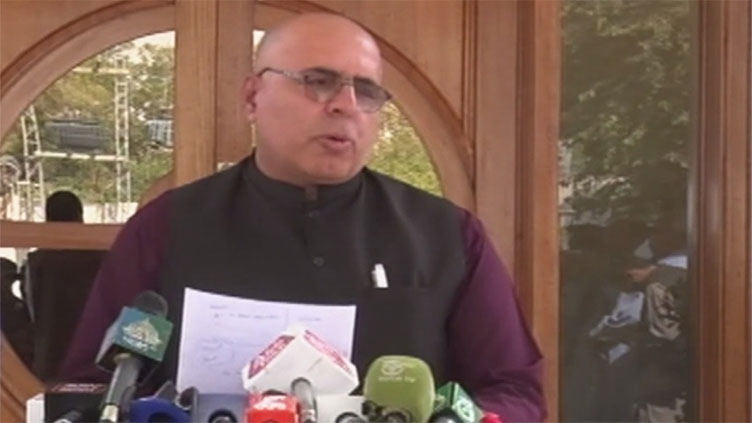 Pakistan
Balochistan announces all-out war against terror following Mastung bombing
QUETTA (Dunya News) – The Balochistan government on Sunday announced an all-out war against terror, in the aftermath of Friday's horrific suicide attack in Mastung district that has seen 60 people dead so far.
"Now there will be no appeasement or concession … we are declaring all-out war on these terrorists," averred Provincial Caretaker Minister for Information Jan Achakzai.
Addressing a press conference in Quetta, the minister emphasised the urgency of the situation, stating that terrorist incidents in the country had become a daily occurrence and followed a consistent pattern.
He questioned why such attacks were happening exclusively in Pakistan and not in neighboring countries, suggesting the presence of a mastermind orchestrating destabilisation. He declared, "Now there will be no appeasement or concession … we declare all-out war on these terrorists."
A day earlier, Federal Interior Minister Sarfraz Bugti alleged that India's foreign intelligence agency, the Research and Analysis Wing (RAW), was behind the recent terrorist attacks in Balochistan.
"All major incidents that occurred in Balochistan before this one…they were all unearthed ... India's RAW was behind all these, and the forces who want to destabilise Pakistan," Bugti said.
Bugti made it clear that from now on the state would not hesitate to hunt down any terrorist group, be it Daesh or TTP or anyone else.
Read also: India's RAW orchestrated Mastung suicide bombing, alleges Sarfraz Bugti
No terrorist group has so far claimed the responsibility for the attack that occurred during a procession celebrating the birth of the Holy Prophet (PBUH) on 12 Rabiul Awwal, resulting in 53 casualties, including a police officer, religious leaders, and children.
Afterwards, the Counter-Terrorism Department initiated a case against unidentified individuals.
Chief of Army Staff (COAS) General Asim Munir previously labeled the terrorists and facilitators behind the attack as "proxies of the enemies of Pakistan and its people".
Read more: Operation against terrorists to continue unabated, says COAS Munir
During the press conference, Minister Achakzai was questioned about the possibility of a grand operation in response to the recent terrorist attacks in the province. While he refrained from commenting on that matter, he assured journalists that the state would defend its territory and conduct intelligence-based operations as needed.
He further pledged to pursue not only the terrorist operatives but also their masterminds, vowing to track them down wherever they were hiding.
Achakzai asserted that the state's resolve to combat terrorism had surged by "1000 per cent" after the Mastung tragedy, and the government was prepared to take any necessary measures, including operations in every inch of territory.
Regarding potential links to terrorism in Pakistan's neighboring country, Achakzai stated that if such connections were found in Balochistan, the government would ensure that its enemies were dealt with decisively.
The information minister also announced financial aid for the families of the martyrs, specifying that each martyr's family would receive Rs1.5 million, with Rs0.5 million allocated to the critically injured and Rs0.2 million to the nominally injured by the provincial government. Discussions were ongoing with the central government to enhance the aid package.
Achakzai also mentioned the reassessment of security protocols to prevent any security lapses in the wake of the incident. He revealed that a significant Apex Committee meeting was scheduled in Islamabad on October 3, followed by a provincial apex committee meeting on October 10, during which critical decisions and actions would be recommended.
Achakzai's declaration of concerted efforts against militancy and foreign elements came shortly after similar calls from other civil and military leaders.