Bugti retracts as Rana advises him to learn a lesson from Sheikh Rashid's fate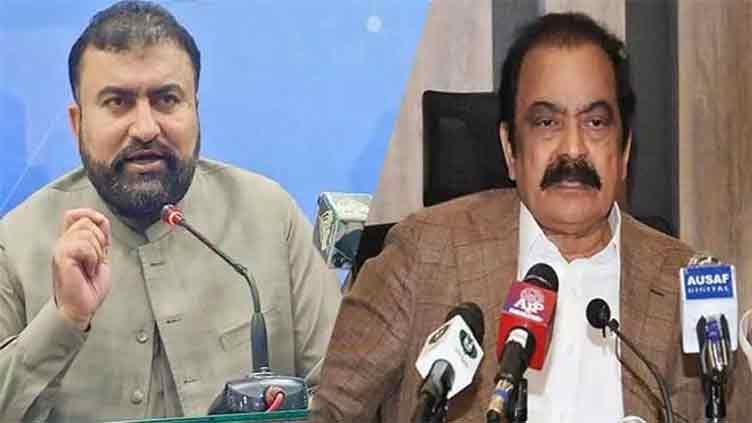 Pakistan
Says his statement was politicised; PML-N leaders say people to decide where Nawaz will go
ISLAMABAD/LAHORE (Dunya News/Web Desk) – Caretaker Interior Minister Sarfraz Bugti on Tuesday said his statement about former prime minister Nawaz Sharif was politicized and had been taken out of context after the PML-N leaders reacted strongly to the comments passed during a TV show.
Bugti should learn a lesson from the fate of former interior minister Sheikh Rashid – who occupied the same portfolio in the PTI government – before issuing a statement, PML-N Punjab President Rana Sanaullah warned him earlier in the day.
Describing the comments passed by Bugti as "crossing the limits", he advised him not to make an attempt to improve his standing by talking about the PML-N supremo, who had faced imprisonment and prison in the past.
"Don't worry about him, focus on your work," said Rana and made it clear that the decision about where Nawaz would move after landing at the airport on Oct 21 would be by the people, not the caretaker interior minister.
The PML-N supremo would complete the legal requirements as he had been doing in the past, he said, adding that the consequences of the conspiracy hatched against Nawaz were faced by the masses and the country.
Rana said the bogus cases manufactured against Nawaz were anti-Pakistan and anti-people, adding that the PML-N enjoyed the support of Almighty Allah and the masses.
Similarly, PML-N Spokesperson Marriyum Aurangzeb, addressing Bugti, said where Nawaz would go after from the airport was neither the caretaker government's problem nor within its domain to decide about the matter.
The decision would be made by Nawaz and the people, she remarked, asking caretaker minister to get rid of the thinking that he would remain in the office forever.
But after witnessing the PML-N coming out with all guns blazing, Bugti not only talked about taking his assertion out of context but also said the caretaker setup had no political agenda.
He described the return of Nawaz in politics as a welcoming sign, saying that a large section of people was busy in making preparations to greet their leader.
Earlier on Monday night, the caretaker interior told a private TV channel that the government was ready to arrest Nawaz in case of his bail plea being rejected. Huge force wasn't required to arrest one accused from the airport, he added.