Khursheed Shah cautions PML-N against locking horns with two retired generals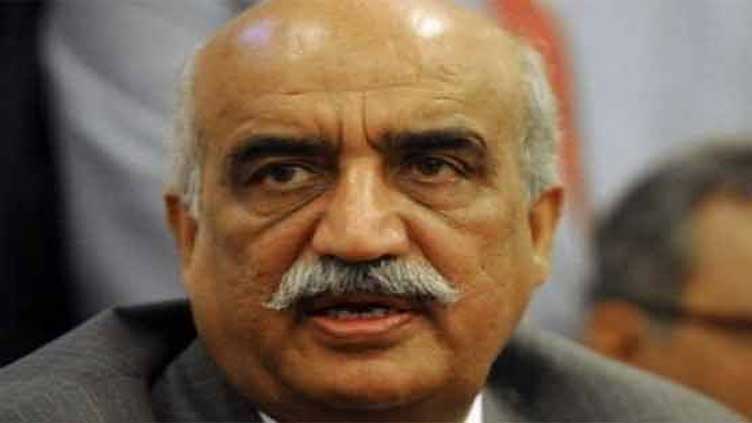 Pakistan
Khursheed Shah cautions PML-N against locking horns with two retired generals
LAHORE (Web Desk) – Khursheed Ahmed Shah, a prominent PPP figure, has advised the Pakistan Muslim League-Nawaz (PML-N), a former partner in the PDM-led coalition government, not to pursue any action against retired army chief Qamar Javed Bajwa and former spymaster retired Lt-Gen Faiz Hamid.
Khursheed Shah's counsel came shortly after Nawaz Sharif, the head of the Pakistan Muslim League-Nawaz, made a strong statement emphasising the need for strict accountability of those responsible for his removal as prime minister in 2017.
Speaking via video link from London, Sharif asserted that Pakistan's path to progress depended on holding accountable all those involved in the 2017 conspiracy. He further alleged that former chief justices of Pakistan, Saqib Nisar and Asif Saeed Khosa, along with Supreme Court judge Azmat Saeed, were also part of this conspiracy and should be held responsible for the country's predicament.
Read more: Nawaz Sharif links Pakistan's progress to holding 2017 conspirators accountable
In a conversation with a private television, Khursheed Shah cautioned the PML-N against pursuing action against the two retired generals, expressing doubt about the feasibility of their plan to target these former military leaders. He pointed out the case of late military dictator Musharraf, who was sentenced under Article 6 of the Constitution, but was later hospitalised and transferred to Dubai. He suggested that pursuing such conflicts might be unproductive for the PML-N.
Shah urged the PML-N to avoid getting embroiled in such situations, noting that politicians often find themselves entangled in such disputes.
Read also: Nawaz Sharif sticks to 'aggressive' election campaign
Former Prime Minister Nawaz Sharif maintained that Pakistan had been pushed to the brink of disaster through a plot that placed amateurs in power, underscoring the importance of adhering to the law in addressing the culprits behind the conspiracy.