PM Kakar issues call to address all forms of terrorism, including Hindutva at UNGA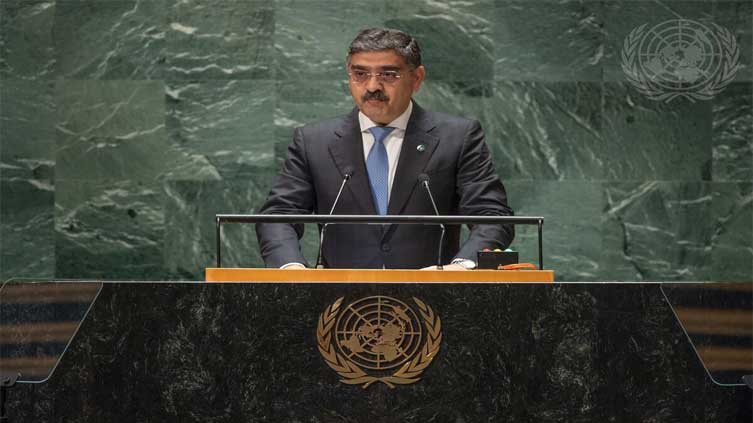 Pakistan
PM Kakar issues call to address all forms of terrorism, including Hindutva at UNGA
NEW YORK (Dunya News) – Caretaker Prime Minister Anwaarul Haq Kakar, in his address at the 78th session of the United Nations General Assembly here Friday, issued a call for addressing various manifestations of terrorism, including those associated with "Hindutva extremists".
"Mr president, we must counter all terrorists without discrimination including the rising threat by far-right and fascist groups such as Hindutva-inspired extremists threatening genocide against India's Muslims and Christians alike," stated Kakar.
The prime minister also called for opposition to address the underlying factors contributing to terrorism, as he believed these factors encompassed poverty, injustice, foreign occupation, and the ability to differentiate authentic freedom movements from acts of terrorism.
"Pakistan proposes the creation of a committee of the general assembly to oversee the balanced implementation of all four pillars of the global counter-terrorism strategy," he added.
PM Kakar however expressed Pakistan's desire for peaceful relations with all neighbouring countries, including its long-standing rival India.
The prime minister extended congratulations on the successful convening of the session on behalf of the Pakistani people and government.
— Prime Minister's Office (@PakPMO) September 22, 2023
Citing ongoing conflicts in places like Ukraine, the prime minister emphasised the need for global cooperation in the face of pressing challenges like poverty and hunger. He said that poverty and hunger were on the rise worldwide, and stressed the shared responsibility to prevent the world from descending into another cold war.
Kakar also pointed out the economic crisis triggered by climate change and the COVID-19 pandemic, highlighting Pakistan's vulnerability as one of the most affected countries by climate change, leading to substantial losses amounting to $30 billion.
PM Kakar reiterated Pakistan's commitment to fostering peaceful relations with all neighboring countries, including India. He however raised concerns about the current situation in Kashmir, condemning India for transforming the region into a virtual prison and for the ongoing violence against innocent Kashmiris.
Read also: Indian Hindutva expansionist designs dangerous for global peace: PM Kakar
Kakar emphasised the need for a continued humanitarian aid effort in Afghanistan, stating that stability in Afghanistan was of utmost importance for Pakistan. He condemned the cross-border attacks perpetrated by the banned outfits of Tehreek-e-Taliban Pakistan (TTP) and Daesh into Pakistan, expressing the desire for the Kabul government to play a pivotal role in addressing this issue.
The prime minister also mentioned that the United Nations had adopted a resolution regarding Islamophobia, and now it was imperative to implement it rigorously. He called for the UN to appoint a special envoy on Islamophobia who would visit all countries and ensure stringent penalties for individuals involved in Islamophobic incidents.
Prime Minister Kakar noted that Islamophobia led to religious blasphemy and Quran desecration incidents, resulting in attacks against Muslims worldwide. He also emphasised that after the tragic events of 9/11, incidents of Islamophobia had increased, warranting global solidarity to combat this issue effectively.