NSC moot delayed owing to PM's Turkiye visit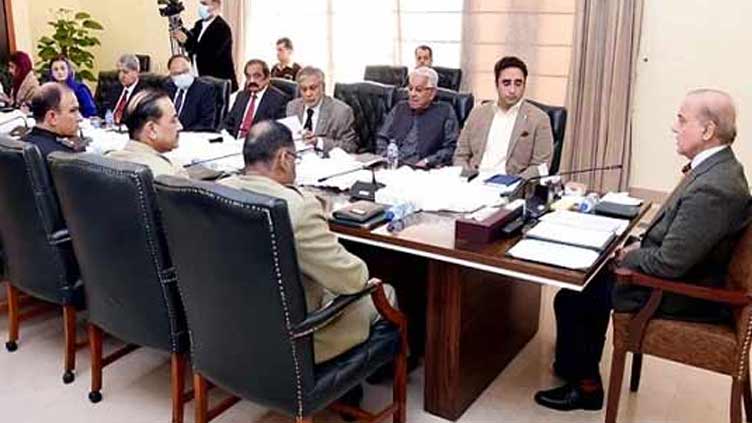 Pakistan
The new date for the meeting is yet to be announced
ISLAMABAD (Dunya News) – A meeting of the National Security Committee (NSC) was postponed owing to Prime Minister Shehbaz Sharif's visit to Turkiye to attend the oath-taking ceremony of Recep Tayyip Erdogan.
The meeting was to be held today (Friday) and it was to be attended by all services chiefs, federal ministers and other officials to discuss matters of importance. The new date for the top civil-military leadership's huddle would be announced later.
In previous NSC meeting, the participants decided to observe May 9 as "black day" nationally. The forum also decided to lay hands within 72 hours on all those involved in the violent attacks, their facilitators and leaders on whose instigation these people had committed vandalism.
During the meeting, heartfelt tributes were paid to the martyrs who bravely sacrificed their lives for the nation. Additionally, the security forces were commended for their successful anti-terrorism efforts and covert operations across the country.
The meeting focused on a briefing provided by intelligence agencies regarding the events that unfolded on May 9. It was revealed that acts of vandalism had taken place, resulting in damage to public and private properties.
Disturbingly, photographs of martyrs were desecrated, memorials were defaced, historical buildings were set ablaze, and military installations were subjected to vandalism. The briefing also indicated a deliberate plan to orchestrate arsons.