Nawaz vows to protect national interests, slams PTI for 9/5 violence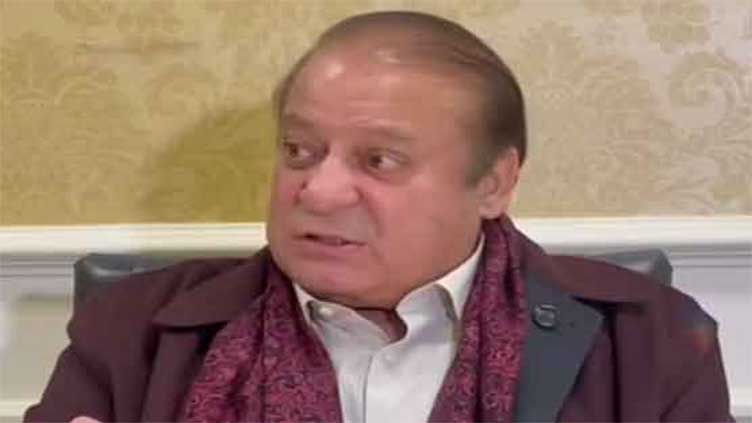 Pakistan
He reiterated his dedication to serving Pakistan with sincerity, love
LAHORE (Dunya News) – In a passionate address to a gathering in Lahore on Sunday, former Prime Minister and Pakistan Muslim League-Nawaz (PML-N) chief Muhammad Nawaz Sharif, reaffirmed his party's commitment to safeguarding Pakistan's national interests.
Mr Sharif expressed his disappointment at not being allowed to complete his government's term whenever the PML-N came to power.
Speaking to the crowd via telephone, Nawaz Sharif stressed Pakistan's achievement of becoming the world's seventh nuclear power on May 28. He shared his desire for Pakistan to also become the world's seventh economic power. Stressing that the PML-N harbors no aggressive intentions towards any nation, Mr Sharif spoke of divine guidance in making the right decisions during challenging times.
Expressing concern over the actions of the Pakistan Tehreek-e-Insaf (PTI), Mr Sharif remarked, "I don't know what these people (PTI) are doing; they spoil the country while laughing."
He then proceeded to highlight his own accomplishments, asking the crowd, "Who has ended terrorism, unrest, and load shedding in the country?" He contrasted his tenure, during which petrol prices were 60 rupees per liter, with the current price of 270 rupees per liter.
PML-N chief slammed PTI for allegedly stoking hatred and misleading the people, which, according to him, has set the country back by many years.
Referring to the violent protests of PTI on May 9, during which military installations were attacked, former PM stated, "Allah has not blessed the nation with this country for a dark day like May 9 but for a bright day like May 28 (Youm-e-Takbeer)."
He further reiterated his dedication to serving Pakistan with sincerity and love, lamenting that he had been deprived of furthering the country's progress on three occasions.