PIA's first Hajj flight departs from Islamabad International Airport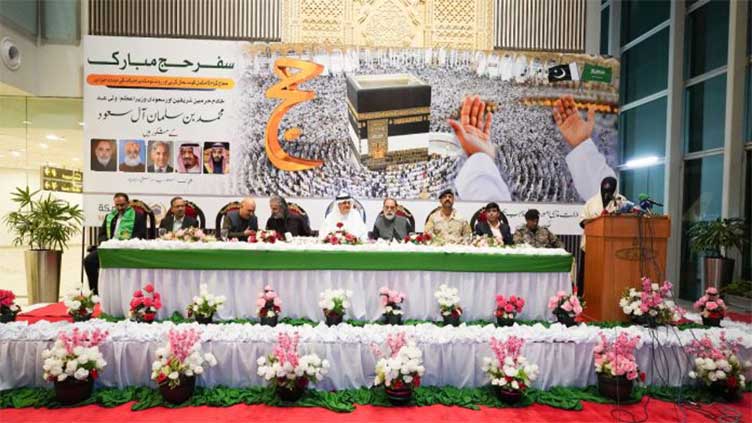 Pakistan
A PIA flight PK-743, carrying 388 pilgrims, left from Islamabad International Airport on Sunday.
ISLAMABAD (Dunya News) - The Islamabad International Airport on Sunday witnessed a grand ceremony on the occasion of the first flight of Hajj, the annual Islamic pilgrimage to Makkah.
The event was attended by distinguished guests, including Minister for Religious Affairs and Interfaith Harmony Senator Muhammad Talha Mehmood, Minister for Narcotics Shahzain Bugti and Saudi Ambassador Nawaf bin Said Al-Malki.
The departure of Pakistan International Airlines (PIA) flight PK-743, carrying 388 pilgrims, took place on time amidst an atmosphere of excitement and anticipation.
The Road to Makkah programme proved highly beneficial for all pilgrims departing from the Islamabad Airport. This programme streamlined immigration procedures and ensured that all legal requirements for Hajj were completed at the airport, eliminating the need for additional processes upon arrival in Saudi Arabia.
Minister Talha, accompanied by Saudi ambassador, saw off the pilgrims and distributed gifts and garlands to each of the travellers on the inaugural flight.
Speaking at the ceremony, he addressed the pilgrims, highlighting their important role as ambassadors of Pakistan abroad. He urged them to transcend religious and political boundaries, emphasising the significance of facilitating others during their journey and embracing their national identity as they represent their country.
In a testament to his commitment to the welfare of the pilgrims, Minister Talha announced the establishment of a dedicated cell to address any difficulties faced by the Hajj participants.
He also shared a WhatsApp number through which he would maintain direct communication with the pilgrims.