Military courts preferred owing to credibility, says Maryam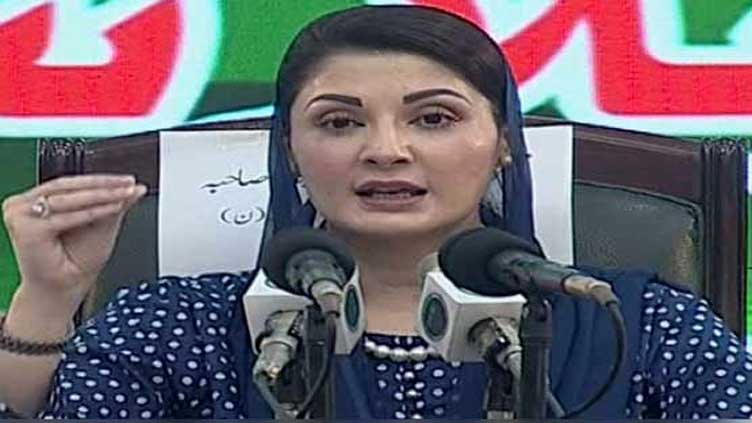 Pakistan
Imran used religion card for politics: Maryam
LAHORE (Dunya News) – Pakistan Muslim League-Nawaz (PML-N) chief organiser Maryam Nawaz said on Saturday she was not in favour of trying civilians in military courts but look at the credibility of civilian courts first.
Addressing a meeting of religious scholars, she said civilian courts had become controversial, adding that they had become a tool for [appeasing] a political party. "How could we expect justice now," she questioned.
Read Also: Army to try perpetrators, facilitators under its laws: COAS

She went on to say that it was the biggest crime to use religion for political purposes, adding that PTI chief Imran Khan always used religion card.
Ms Nawaz said foreign funding was employed to raise Mr Khan, adding that his party burned the country on holding him accountable. "Now they are hiding when it is the time for real freedom," she added.
PML-N leader said Mr Khan was seeking evidence on his party's involvement in 9/5 attacks, adding that how could Mr Khan forget the image of his nephew Hassan Niazi holding a baton carrying Pakistan Army's picture during the protest. "Familiar yourself with PTI leader Dr Yasmin Rashid's leaked audios and videos too," she added.
Know More: Raza Rabbani opposes civilians' trial under Army Act

She said what the PTI did on May 9 had never been witnessed in the history. "Had Mr Khan been convicted in older cases, May 9 events would not have taken place," she added.
PML-N leader said no one could be granted bail during remand, adding that the Supreme Court granted Mr Khan bail despite being on remand. "Look at civilian courts first before raising objections to army courts," she added.
"Judges say their orders are not being followed but first look at the orders you are issuing," she criticised.
Don't Miss: Civilians should not be tried in military courts: former NSA adviser Bolton

Ms Nawaz said ex-CJP Asif Saeed Khosa [who disqualified former PM Nawaz Sharif] pressurised Mr Sharif for extending his tenure, adding that Mr Sharif refused. "Mr Khosa will be brought under justice some day," she added.
She said CJP Bandial did not learn anything from past, adding that he was also following Mr Khosa's path. "Former CJP Saqib Nisar could not face anyone and his son Najam Saqib was also "caught" selling PTI ticket "in black", she added. They had been made walking warning signs, she said, by nature.