Imran pins hope on SC over Punjab Assembly elections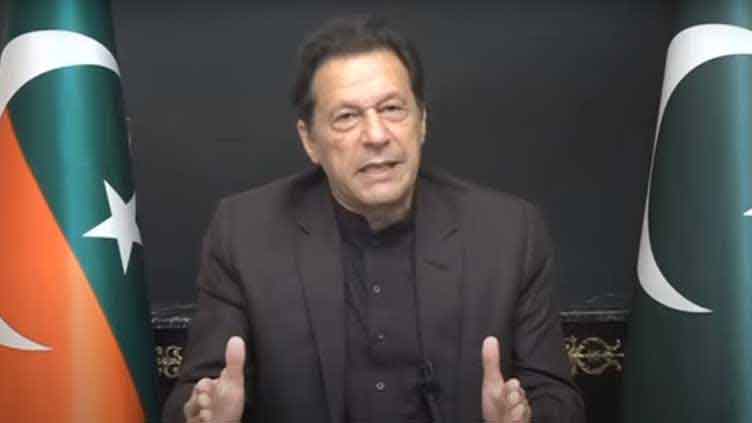 Pakistan
Only case against Shehbaz Sharif was registered in PTI's tenure
LAHORE (Dunya News) – In connection with the Punjab Assembly elections, Pakistan Tehreek-e-Insaf (PTI) Chairman Imran Khan pinned hope on the Supreme Court on Friday.
Speaking to delegations of journalists, Mr Khan said, "Will situation will be normalised by holding the elections on October 8."
Citing the tenure of Gen Ziaul Haq, Mr Khan said, "Ziaul Haq vowed to hold elections, but he ruled for 11 years." Speaking about the incumbent government, "Once you violate the law, you can do anything."
Mr Khan said, "Only case against Shehbaz Sharif was registered in our tenure."
Speaking about terrorism cases against him, Mr Khan said, "The nation knows me for 50 years, but 40 cases related to terrorism has been lodged against me."
Talking about his nephew Hassaan Niazi, Mr Khan said, "It is deeply deplorable that what is going on with Hassaan Niazi. When he gets bail in one case, he has to face another case."
Earlier today, Mr Khan launched a broadside at the Pakistan Democratic Movement (PDM), saying that the incumbent government had dragged the country into a quagmire.
In a statement, the deposed premier said, "Everybody should show solidarity for the sake of the judiciary and the country's survival. I will tell how we have to stand by the constitution."
Speaking about his party's gathering, Mr Khan said he was going to stage the first gathering this year tomorrow.
Read also: Imran's protective bail extended till March 27 by LHC
He sought the nation's help, saying the country was witnessing a difficult time.
On Thursday, Mr Khan said the Islamabad and Punjab police were breaking all the laws with impunity.
Taking to Twitter, the deposed premier said, "Today Azhar Mashwani was abducted in the afternoon from Lahore and his whereabouts are unknown."
Read also: LHC cancels reservations on Imran's plea for protective bail
"On March 18, Senator Shibli Faraz and Omar Sultan were badly beaten by ICT police despite both having permission to be inside the Judicial Complex," he claimed.
Speaking about Hassaan Niazi, Mr Khan said, "Hassaan Niazi was abducted immediately after getting bail and later charged with sham FIRs to keep him locked up".
Talking about approaching the human rights organisations, Mr Khan said, "I am sending pictures of Punjab IG, ICT, and all officers indulging in this criminal behavior to international human rights organisations.