Imran's protective bail extended till March 27 by LHC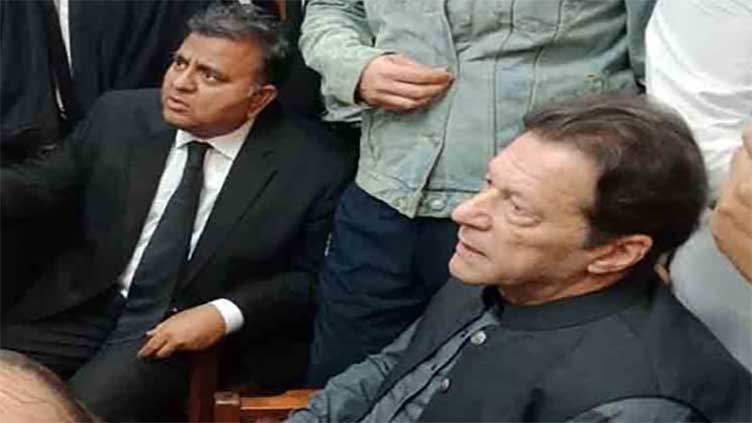 Pakistan
Imran Khan reaches LHC for protective bail in five cases
LAHORE (Dunya News) – The Lahore High Court gave relief to the former premier Imran Khan by extending his protective bail in five cases till March 27. The cases were filed against Imran Khan in Islamabad including "vandalism" at his recent appearance in the judicial complex.
The Lahore High Court on Friday cancelled the reservations related to the plea of former premier Imran Khan seeking protective bail in five cases.
A two-member bench comprising Jsutice Tariq Saleem Sheikh and Justice Anwaar Hussain heard the petition filed by the former prime minister for renewal of his protective bail as he failed to appear before the relevant courts in the cases registered Raman and Khana police stations.
When asked if Supreme Court would intervene in the recent decision of the Election Commission regarding the postponement of elections, PTI chief said if the apex court failed to abolish this decision, then it would also be uncertain that if the polls would be held in October.
Barrister Salman Safdar and Advocate Azhar Siddique represented the PTI chief in the case. A heavy contingent of police was deployed at the high court in order to avoid any untoward situation.
Barrister Salman said reservations were raised at the PTI's chief plea for bail, therefore petition was reapplied. He said extension was requested in the already given plea. Responding, Justice Tariq Saleem said the Islamabad High Court should be approached for this purpose.
At this, Imran's lawyer raised issue of Imran's security and said he also came at the LHC with security.
Meanwhile, Imran Khan came at rostrum and said chaos took place at the judicial complex and the court could see video of that incident while saying no prime minister in the country's histroy had to face this kind of victimisation.
Earlier, Pakistan Tehreek-e-Insaf (PTI) Chairman Imran Khan reached Lahore High Court (LHC) from his Zaman Park residence to secure protective bail in five cases registered against him in Islamabad.
On Tuesday, the LHC granted protective bail to the former premier in two other cases registered under terrorism charges against him in Islamabad following last week's clashes at the Federal Judicial Complex (FJC) during his appearance in the Toshakhana case.
The first information reports (FIRs) were registered at the Counter Terrorism Department (CTD) and the Golra police stations, accusing the PTI chief and his supporters of attacking police, torching security vehicles and creating unrest outside the judicial complex.
A two-judge LHC bench comprising Justice Shehbaz Rizvi and Justice Farooq Haider had granted protective bail to Imran Khan in the terrorism cases till March 27.