Court sends Imran's newphew Hassaan Niazi on 14-day judicial remand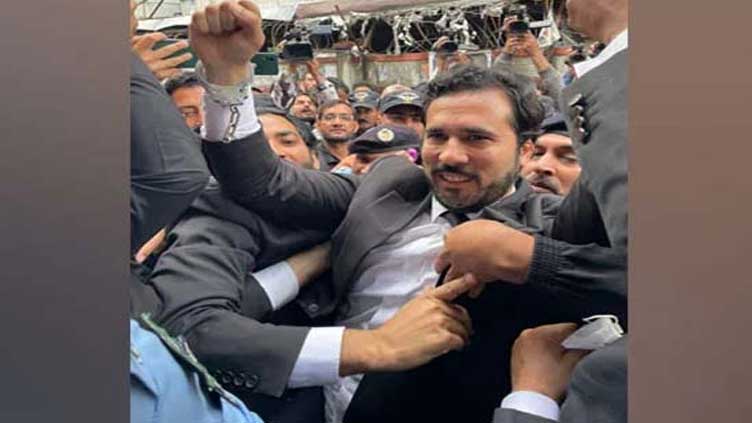 Pakistan
Court sends PTI's Hassaan Niazi on judicial remand
ISLAMABAD (Dunya News) – A District and Sessions Court on Thursday rejected a plea seeking an extension in the physical remand of Pakistan Tehreek-e-Insaf (PTI) focal person Hassaan Niazi and sent him to jail on 14-day judicial remand in connection with intervening in the affairs of the state case.
Mr Niazi was presented before Magistrate Mureed Ababs on completion of his five-day physical remand and the investigation officer pleaded to the court for extending the remand saying his accomplice had been found but the pistol and vehicle were yet to be found. However, the court rejected the plea.
Mr Niazi was represented by lawyers Faisal Chaudhry and Ali Bukhari. Mr Chaudhry argued that the police, even after more than 72 hours, could not find the pistol and particulars of the vehicle. If they could not recover the pistol and the vehicle, there was no reason to keep Mr Niazi in custody.
He went on arguing that the accused, Mr Niazi, was a lawyer and he had secured bail in three cases on the day he was arrested. "Cases are politically motivated and Mr Niazi's crime is that he is PTI chairman Imran Khan's newphew", he added. They [police] were intended to send the message, he said, that they would keep [people] in custody and beat them.
He cited Siddique Jan's case and argued that when the police could not recover anything from him in connection with a terrorism case, the court discharged him. Police is downgrading a lawyer, and it is the cause of the lawyers that demands to be observed with a better angle.
Lawyer Ali Bukhari also argued to discharge Mr Niazi. He argued that the police report had stated that Mr Niazi was booked at 11am but his arrest was documented at 4pm. "I believe his arrest is unconstitutional", he added.
Islamabad bar president Qaisar Imam argued that what was happening now had never happened before adding that the lawyers representing their clients were being booked now. "We saw martial law and days even worse than that [but not like these]", he added.
He further argued that two known lawyers were present at the occasion and they said such an incident did not take place. "All the articles invoked were bailable and I'm ashamed as the bar's president", he added.
Later Mr Abbas reserved the verdict in the case.