LHC approves Imran's protective bail in all nine cases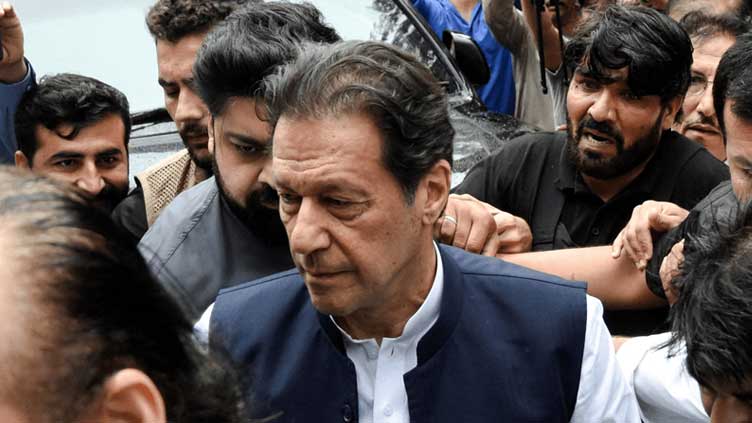 Pakistan
Court seeks details of cases lodged against Imran in Punjab till Tuesday
LAHORE (Dunya News) – The Lahore High Court (LHC) approved on Friday protective bails of Pakistan Tehreek-e-Insaf (PTI) Chairman Imran Khan in all nine cases registered against him in Lahore and Islamabad.
The LHC had approved the protective bail of Imran Khan in the cases registered in Islamabad till March 24, while in other cases registered in Lahore till March 27. The court had summoned the details of the cases lodged against Mr Khan in Punjab till Tuesday.
In connection with the protective bail in cases that include terrorism charges, a two-member bench comprising Justice Tariq Saleem Sheikh and Justice Farooq Haider heard the pleas.
During his appearance before the court, Mr Khan stated, "Things were out of my control. I want to express my gratitude to the court."
Justice Tariq Saleem Shiekh said, "Khan Sahab, many of the problems will be sorted out, if you follow the system".
"94 cases have been registered against me. I believe in the supremacy of the law," added Mr. Khan.
In connection with the development, PTI leader Farrukh Habib penned a tweet.
— Farrukh Habib (@FarrukhHabibISF) March 17, 2023
After days of fever pitch activities surrounding Pakistan Tehreek-e-Insaf chairman Imran Khan, he finally appeared in the court of Justice Tariq Saleem Sheikh of the Lahore High Court to seek protective bail in nine cases registered against him.
The city witnessed unprecedented scenes on Friday evening as a large number of people, many of them alleged to be armed with rods and batons, accompanied Imran Khan's bullet-proof vehicle to the LHC where his vehicle was allowed entry.
Strict security arrangements had been put in place as an additional police force had also reached the Lahore High Court.
— PTI (@PTIofficial) March 17, 2023
Before leaving Zaman Park, Mr Khan told his supporters, "Allah Almighty helps those who stand by truth. I would like to thank Almighty Allah who gave me plenty of respect. It is a matter of great happiness that the PTI workers are standing by truth."
The LHC had summoned Mr Khan at 4:30pm. In this regard, the LHC had ordered the Punjab IGP to provide Mr Khan the facility for his appearance before the court.
Earlier, PTI leader Fawad Chaudhry confirmed that Mr Khan would appear in court at 2pm. He said the former premier had submitted a petition for protective bail in nine cases registered against him.
Fawad Chaudhry, in a twitter message, said Azam Nazir Tarrar was issuing a statement about the need to sit together to jointly solve all issues and Shehbaz Sharif had also hinted at negotiation but they should walk the talk. He demanded that the government give date for such a meeting involving politicians as Imran Khan was in favour of dialogue.
Meanwhile, the high court on Friday extended its order halting an operation to arrest Imran Khan till 3pm. Justice Tariq Saleem Sheikh issued the order while hearing a petition filed by PTI leader Fawad Chaudhry to stop police from action at Zaman Park after supporters of the former prime minister fought pitched battles with security forces when police tried to arrest Imran Khan in the Toshakhana case.
At the outset of the hearing, Punjab Inspector General of Police (IGP) Usman Anwar said the chaos was witnessed after rules were defied. Referring to Thursday's meeting with PTI leaders at the chief secretary office, he said it had been decided that the political party would appoint a focal person.
At one point, Justice Sheikh in conversation with Fawad Chaudhry said they should approach the IGP for security, adding that they could move courts on unsatisfactory response from the authorities. He said containers should be used for exports instead of placing them as barricades.
When the IGP requested the court to issue a verdict on the arrest warrants of the PTI, Justice Sheikh said the decision would be made at 3pm and adjourned the hearing.