Imran Khan set to appear in LHC for protective bail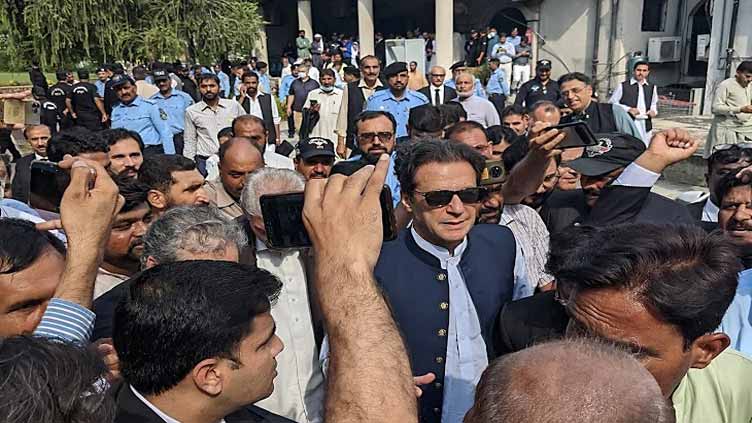 Pakistan
PTI leader Fawad Chaudhry confirmed that Mr Khan would appear in court at 2pm.
LAHORE (Dunya News) – Pakistan Tehreek-e-Insaf (PTI) chairman Imran Khan is set to appear in the Lahore High Court (LHC) today (Friday) to secure protective bail in multiple cases.
PTI leader Fawad Chaudhry confirmed that Mr Khan would appear in court at 2pm. He said the former premier had submitted a petition for protective bail in nine cases registered against him.
Earlier, Fawad Chaudhry, in a twitter message, said Azam Nazir Tarrar was issuing a statement about the need to sit together to jointly solve all issues and Shehbaz Sharif had also hinted at negotiation but they should walk the talk. He demanded that the government give date for such a meeting involving politicians as Imran Khan was in favour of dialogue.
Meanwhile, the high court on Friday extended its order halting an operation to arrest Imran Khan till 3pm. Justice Tariq Saleem Sheikh issued the order while hearing a petition filed by PTI leader Fawad Chaudhry to stop police from action at Zaman Park after supporters of the former prime minister fought pitched battles with security forces when police tried to arrest Imran Khan in the Toshakhana case.
At the outset of the hearing, Punjab Inspector General of Police (IGP) Usman Anwar said the chaos was witnessed after rules were defied. Referring to Thursday's meeting with PTI leaders at the chief secretary office, he said it had been decided that the political party would appoint a focal person.
At one point, Justice Sheikh in conversation with Fawad Chaudhry said they should approach the IGP for security, adding that they could move courts on unsatisfactory response from the authorities. He said containers should be used for exports instead of placing them as barricades.
When the IGP requested the court to issue a verdict on the arrest warrants of the PTI, Justice Sheikh said the decision would be made at 3pm and adjourned the hearing.