Willing to talk to anyone for country's sake, reiterates Imran Khan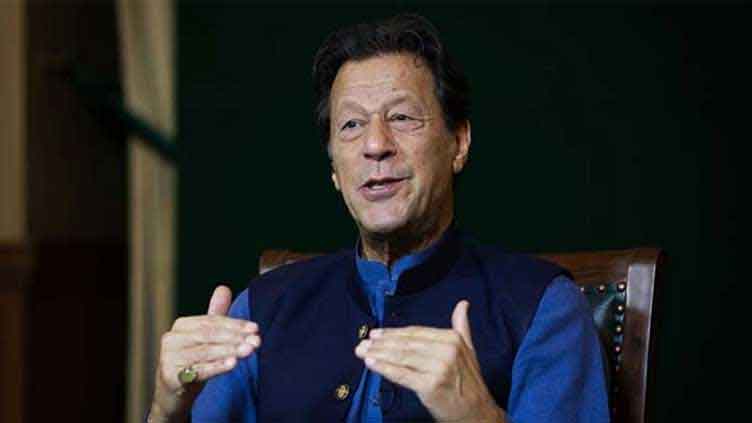 Pakistan
Imran vows to appear before the court on March 18
LAHORE (Dunya News) – Pakistan Tehreek-e-Insaf (PTI) Chairman Imran Khan reiterated on Thursday that he will hold talks with anybody else for the sake of the country.
Taking to Twitter, Mr Khan went on to say that he had no issue for taking any initiative in terms of the prosperity and interests of the country.
— Imran Khan (@ImranKhanPTI) March 16, 2023
Expressing his gratitude for his supporters, Mr Khan said, " I want to express my gratitude to all of the workers who came from different parts of the country, including Lahore, to stand by my side in a bid to struggle for actual freedom."
— Imran Khan (@ImranKhanPTI) March 16, 2023
On the other hand, Mr Khan, while saying that he believed in supremacy of law, vowed to appear before the court on March 18.
Speaking to a delegation of journalists, Mr Khan said his party would not let the elections get delayed for more than 90 days, otherwise, the PTI will launch a movement as per the constitution in this regard.
Talking about his potential arrest, Mr Khan said, "The police, Rangers have come again near my residence to arrest me. There is no doubt about it that after getting arrested, I will be subjected to torture."
When asked about the presence of former Punjab chief minister Chaudhry Parvez Elahi, Mr Khan said, "Chaudhry Parvez Elahi has been tested positive for coronavirus".
Read also: Storm clouds gathering as PTI supporters 'fortify' Imran Khan's home amid police march

Earlier today, the police had registered a case against Mr Khan and other party leaders over violence at Zaman Park.
The case had been registered at the Racecourse police station under various sections including terrorism, interference in state affairs, illegal gathering and refusing to receive court summons on the complaint of SHO Rehan Anwar.
The FIR alleged the party workers and hundreds of supporters committed serious crimes at the nod of the defiant politician. It added that the PTI workers created problems for public and damaged state properties as they resorted to use of petrol bombs. The violent clashes inflicted injuries on 63 policemen, including the DIG operations of the Islamabad police, it has been alleged.
The Punjab capital saw volatile situation for hours after clashes erupted between the PTI protesters and law enforcers when the capital police reached to arrest Imran Khan in the Toshakhana case. Footages showed police used tear-gas shelling and water cannons while protesters resorted to stone pelting and petrol bombs to block the arrest of their leader.