Govt bans retaining of gifts valued above $300 under new Toshakhana policy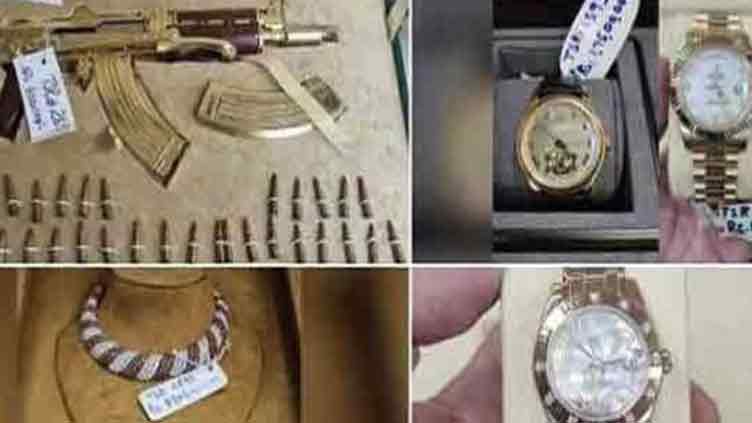 Pakistan
A ban has been imposed on retaining vehicles, expensive watches, jewellery, valuable gifts
ISLAMABAD (Web Desk) – The federal government has implemented a new policy for retaining gifts from Toshakhana, the state depository where gifts received by the government officials from foreign countries and dignitaries are kept.
The development comes as the government, in a historic move, released the record of Toshakhana gifts since 2002 that revealed how the former rulers and bureaucrats retained high-priced gifts for peanuts. However, the buying of gifts at a lower prices is not illegal as there was a law allowing them to pay a certain percentage after assessment of the value of the items.
The current coalition government has now enforced new police titled "Toshakhana procedure for the acceptance and disposal of gifts, 2023" with immediate effect. The policy was approved by the cabinet of Prime Minister Shehbaz Sharif in February this year. The policy has banned the presidents, prime ministers, cabinet members, judges, civil and military officers from buying gifts worth more than $300. They can retain gifts valued less than $300 in market.
Unlike previous policy, a ban has been imposed on retaining vehicles worth millions, expensive watches, jewellery and valuable gifts.
The officials have also been banned from receiving cash in gifts from domestic and foreign personalities. They are advised to immediately deposit the entire amount with the national exchequer if it becomes impossible to refuse the cash gift.
Read More: LHC orders govt to submit details of Toshakhana gifts since 1947
All gifts received by the government or public functionaries irrespective of their prices, must be reported and deposited with Toshakhana of the Cabinet Division within 30 days of receiving them.
"All such gifts, including vehicles and valuable antiques, shall be properly catalogued and displayed at the prominent buildings owned by the government," according to the policy.
The public is allowed buying the Toshakhana gifts worth more than $300 through an open auction. Apart from the president and the prime minister, other personalities are banned from receiving gifts for their families.
The Cabinet Division will get the value of the gifts assessed from government sector experts in FBR. It will also get the value of gifts assessed by the private appraisers. "The weapon(s) shall be assessed by Private Appraisers on the panel and by the expert of Pakistan Ordnance Factories Wah instead of FBR," it said.
The gifts exceeding the value of $300 shall become Toshakhana property. Gifts that cannot be retained, donated or displayed shall be disposed of by periodical sales to general public to be arranged by the Cabinet Division.
Gold and silver coins will be handed over to the State Bank of Pakistan. Strict action will be taken against the person concerned for violation of Toshakhana policy, it said.
The officers of the Ministry of Foreign Affairs will be bound to provide the gifts received from abroad to the Cabinet Division.