Top leaders make the most of Toshakhana largesse as records declassified since 2002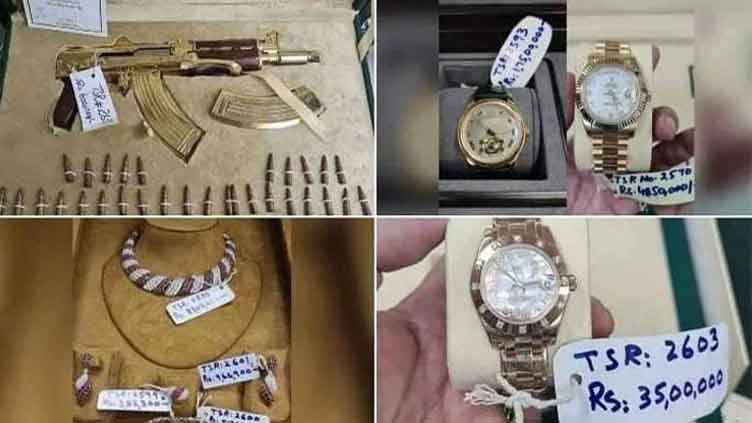 Pakistan
Govt receives 59 in 2023, 224 gifts in 2022
ISLAMABAD (Dunya News) - The federal government has declassified the Toshakhana gifts' records since 2002 for the first time in country's history.
A 446-page record of Toshakhana gifts from 2002 to March 2023 has been released and it includes details of the gifts of the presidents, prime ministers and federal ministers. During the ongoing year, the incumbent government received 59 gifts.
According to the record released by the government, 224 gifts were received in Toshakhana in 2022, 116 in 2021, 175 in 2018 and 91 gifts were received in 2014. As many as 177 gifts were received by government officials in 2015.
On Thursday, the federal cabinet had decided to make the details of records of Toshakhana, a state repository that stores gifts received by public officeholders from other governments and foreign dignitaries, public. Defence Minister Khawaja Asif made an announcement to the effect.
Read also: Govt shares Toshakhana gifts details with LHC
Mr Asif took to Twitter, stating: "The cabinet has allowed declassification of Toshakhana record. It would soon be posted on website of the cabinet division."
The Toshakhana department was established in 1974 and all the public officeholders, including parliamentarians and bureaucrats, are bound to report the gifts to the Cabinet Division. The department came under the spotlight when proceedings were initiated against former prime minister Imran Khan for "not sharing details" of Toshakhana gifts retained by him.
The Election Commission of Pakistan (ECP) has also disqualified the PTI chief as member of the National Assembly in the Toshakhana case for not disclosing the gifts last year. A districts and sessions court in the federal capital is hearing a criminal case against him for concealing details of the gifts he retained while serving as the prime minister.
TK-Record.pdf by Mehar Mahmood Idrees
Earlier this year, the federal government had told the Lahore High Court (LHC) that public disclosure of Toshakhana details could cause unnecessary media hype and could be potentially damaging for Pakistan's foreign relations. However, the LHC remarked that it would hold off an order to make details of the Toshakhana gifts public until it would be satisfied that these gifts were kept secret.
Nawaz Sharif
Former prime minister and PML-N supremo Nawaz Sharif was gifted a Mercedes Benz car on April 20, 2008 which was worth Rs4.25 million. He retained it after paying Rs0.636m, as per the document. The document didn't mention in what capacity Mr Sharif received the vehicle.
Asif Ali Zardari
Former president and PPP co-chairman Asif Ali Zardari retained one BMW 760 Li white (security version) on Jan 26, 2009. The value of the car was fixed at Rs27.3 million while the former president retained it after paying a little more than Rs4m.
In March 2011, he retained a wristwatch worth Rs1m after paying Rs158,250 for the watch and some other items.
In June 2011, he retained a wristwatch worth Rs1.25m after paying a sum of Rs189,219 for the watch and some other items.
In October 2011, the PPP leader retained a Cartier wristwatch worth Rs1m after making a payment of Rs321,000 for the watch and a gun.
Imran Khan
Former prime minister and PTI Chairman Imran Khan received five precious wristwatches, including a Graff watch, worth Rs3.8 million. He retained these gifts in October 2018 after paying a sum of Rs0.754m.
In September 2018, he retained a Graff wristwatch worth Rs85m, a pair of cufflinks worth Rs5.6m, a pen worth Rs1.5m, and a ring worth Rs8.75m after paying Rs20m for these items.
Another Rolex watch worth Rs1.5m soon followed and the former prime minister retained it after paying Rs294,000 for the precious item.
In November 2018, Imran Khan retained another Rolex wristwatch worth Rs900,000 after paying a sum of Rs338,600 for the watch and some other items.
In October 2019, he retained a boxed watch, assessed at Rs1.9m, after paying a sum of Rs935,000. In September 2020, Imran Khan retained another Rolex watch, assessed at Rs4.4m, after paying Rs2.4m for the watch and a number of other gifts.
In the same month, his wife Bushra Bibi kept a necklace worth Rs10m, a bracelet worth Rs2.4m, a ring worth Rs2.8m, and a pair of earrings worth Rs1.85m after paying a sum of Rs9m for these gifts.
Dr Arif Alvi
President Dr Arif Alvi retained a Rolex wristwatch worth Rs2.5m in February 2022 after paying Rs1.2m. His wife, Samina Alvi, retained a necklace worth Rs1.19m in October 2019 after paying Rs865,000 for it and other items in the jewellery box.
Other politicians
AML chief and former federal minister Sheikh Rashid Ahmad retained dozens of gifts, including two gold coins, on Feb 3, 2003, after paying a mere Rs3,420.
Raja Pervaiz Ashraf retained a Graff wristwatch assessed at Rs890,000 in November 2012 after paying a sum of Rs218,000 for it and other items.
Seasoned politician and former foreign minister Khurshid Mahmood Qasuri received several gifts in 2005 and retained these items free of cost.