Pemra imposes ban on broadcasting Imran's speeches, statements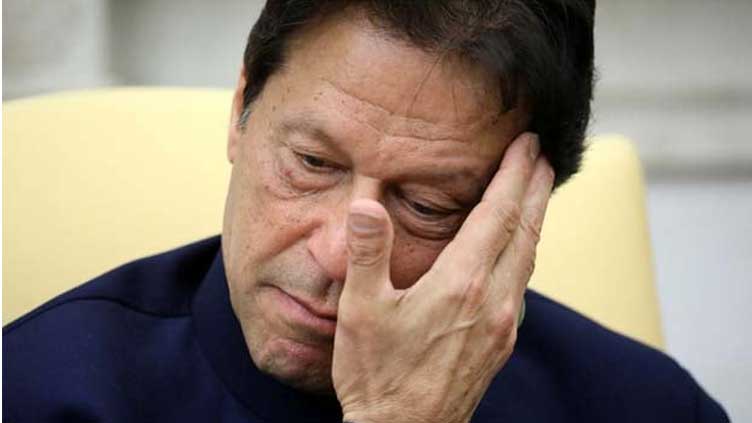 Pakistan
Fawad says PTI to move court against ban
ISLAMABAD (Dunya News) - The Pakistan Electronic Media Regulatory Authority (Pemra) on Sunday imposed a complete ban on the broadcast of speeches, talks or public addresses of Pakistan Tehreek-e-Insaf (PTI) supremo Imran Khan.

In a issued notification, the regulatory body stated that the PTI chairman has been making false accusations against state institutions in his speeches, "which is prejudiced to the maintenance of law and order and is likely to disturb public peace and tranquillity."
Also read: Imran demands public hearing of Toshakhana case after 'arrest fiasco'

Pemra has directed all satellite television channels to refrain from airing any of the PTI chief statements, addresses, and conversations, whether recorded or live, or from a press talk.

The regulator's decision to ban the broadcasting of Imran's speeches was made under Section 27 of the Pemra Ordinance 2002. It added that "Airing of baseless allegations, hateful, slanderous and unwarranted statement against state institutions and officers are in sheer violation of Article 19 of the Constitution."
The media watchdog's decision to ban the broadcast of Imran Khan's speeches is not a novel occurrence. In fact, the media regulator had previously implemented a similar ban on August 21 last year. The blanket ban was enforced after Imran allegedly made threatening remarks against Additional District and Sessions Judge Zeba Chaudhry, as well as the Islamabad Police IG and DIG. The alleged remarks came after the judge had handed over Imran's aide Shahbaz Gill to the police for physical custody for two days.
Imran Khan had challenged the ban on his speeches in the Islamabad High Court (IHC), which subsequently overturned the decision on September 6, 2022.
However, Pemra once again imposed a ban on Imran's press conferences on November 5 of the same year. The regulatory body took this step after Imran, in his first press conference following an assassination attempt on him, accused Prime Minister Shehbaz Sharif, Interior Minister Rana Sanaullah, and a senior intelligence official, identified as Major General Faisal Naseer, of plotting to eliminate him without providing any evidence. Imran demanded their immediate resignations to ensure a fair investigation.
The ban, however, was lifted hours later after the government instructed Pemra to do so, with Information Minister Marriyum Aurangzeb asserting the government's commitment to "democratic principles and constitutional freedoms of expression."
PTI to move court against ban
On the other hand, PTI leader Fawad Chaudhry has responded to the development by accusing the government of making a "sinister effort" to stifle Imran Khan's voice.
He added the party will challenge the ban in court, and also urged the media to move the court against this order.
— Ch Fawad Hussain (@fawadchaudhry) March 5, 2023
While PTI leader Ali Haider Zaidi took to Twitter and penned that "Using Pemra as a political tool and banning leaders like @ImranKhanPTI will not address the challenges Pakistan faces today,"
— Ali Haider Zaidi (@AliHZaidiPTI) March 5, 2023