Imran, Elahi to confer over SC verdict on Punjab, KP polls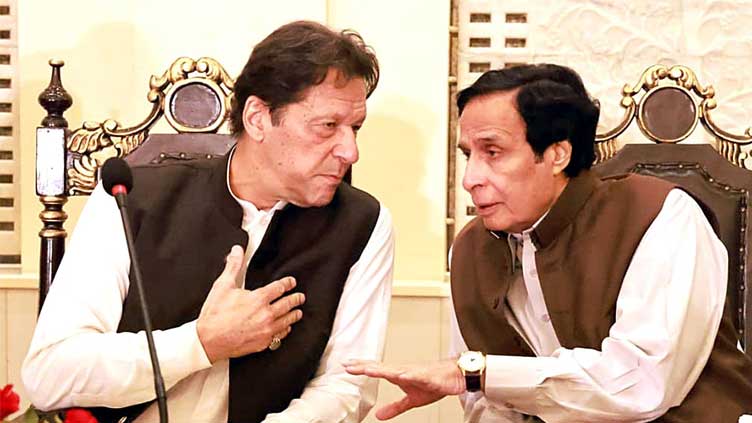 Pakistan
The meeting would take place at Zaman Park
LAHORE (Dunya News) – Pakistan Tehreek-e-Insaf (PTI) Chairman Imran Khan and former Punjab chief minister Chaudhry Parvez Elahi would hold a consultative meeting in Lahore to discuss the Supreme Court 3-2 verdict on elections in Punjab and Khyber Pakhtunkhwa to be held within 90 days.

The meeting would take place at the deposed premier's Zaman Park residence in Lahore while the apex court's verdict and the party's future strategy would be the centre of attention in the huddle.

Earlier in the day, Imran Khan suspended the court arrest drive of the party after the Supreme Court's verdict.

Also read: Rana says Centre to accept SC ruling with heavy heart

In a tweet, the former premier welcomed the judgement of the apex court, saying: "It was responsibility of SC to uphold Constitution & they have valiantly done that through their judgement today". He said the ruling was an assertion of the rule of law in Pakistan.
— Imran Khan (@ImranKhanPTI) March 1, 2023
"We are suspending our Jail Bharo movement & moving forward with election campaigns in KP & Punjab," he concluded.
The court arrest movement was launched on Feb 22 by Imran Khan-led party against the violation of fundamental rights and worsening economic situation. The movement began in Lahore where Shah Mahmood Qureshi, Asad Umar, Azam Swati and other PTI leaders voluntarily surrendered themselves before the authorities. The drive was later expanded to other cities, including Rawalpindi, Gujranwala and Peshawar.