Centre to accept SC ruling with heavy heart, says Rana Sana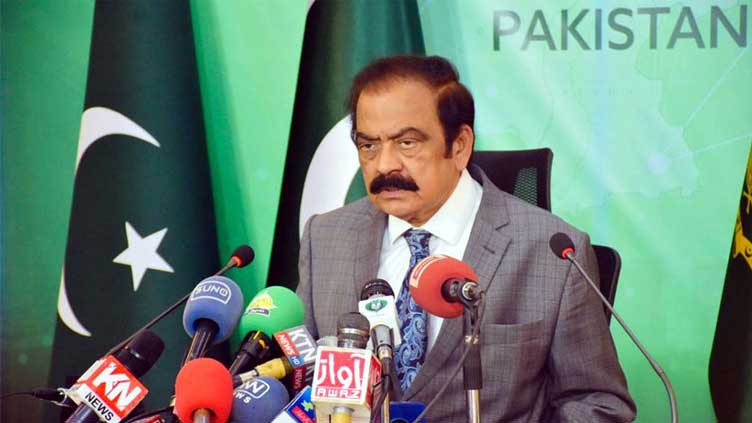 Pakistan
Says Imran Khan wilfully organised his workers to undermine courts
ISLAMABAD (Dunya News) – Interior Minister Rana Sanaullah on Wednesday reacted to the Supreme Court's 3-2 verdict on elections in Punjab and Khyber Pakhtunkhwa to be held within 90 days, saying the federal government would accept the apex court verdict despite reservations.

Addressing a presser in Islamabad, Rana Sana castigated PTI chief Imran Khan by saying: "Imran Niazi wilfully organised his workers to undermine courts and this tendency is unacceptable." He appealed to the nation to vote out the "evil of Imran Niazi" in the upcoming election to protect Pakistan from any untoward incident.

"Imran's recent appearances before courts with PTI's goons exposed him. He only wants to spread anarchy in the country," added Sana.

The interior minister vowed that he would take stern action against such happenings outside courts by the former ruling party.
Also read: Imran Khan calls off 'Jail Bharo' movement

Sanaullah said a day earlier strict legal action against PTI workers involved in vandalism and hooliganism in Islamabad Judicial Complex would be taken. He said two cases had been registered against the culprits and 29 people had been arrested. He said CCTV footage of the incident had been acquired in which around 200 people were nominated.

"Footage of the incident will be provided to the media so that the entire nation should see the face of these criminal-minded elements," added Sanaullah.

The minister said scuffle with the media persons on the premises of the judicial complex was also condemnable and action would be taken against the responsible.
Watch here