Parvez Elahi embraces PTI a day ahead of momentous 'Jail Bharo Movement'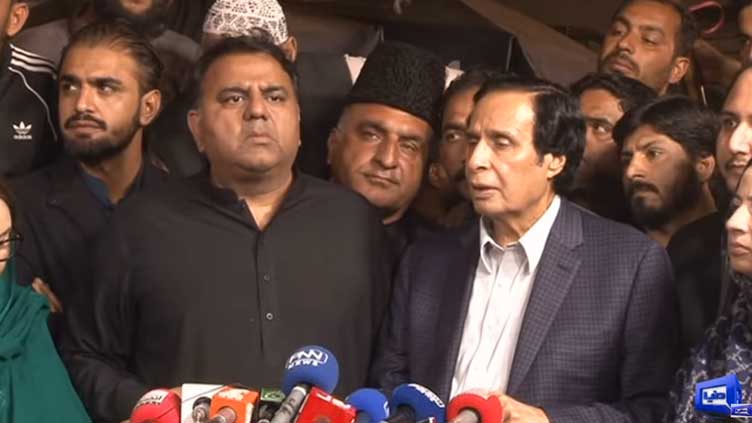 Pakistan
Parvez Elahi embraces PTI a day ahead of momentous 'Jail Bharo Movement'
LAHORE (Dunya News) – Former Punjab chief minister and Pakistan Muslim League-Quaid (PML-Q) leader Chaudhry Parvez Elahi has joined Pakistan Tehreek-e-Insaf (PTI) along with his 10 aides.
The announcement was made after PML-Q President Chaudhry Shujaat sacked him as the party's Punjab president and revoked his basic membership.
Talking to media, PTI leader and former federal minister Fawad Chaudhry said that the former Punjab CM and other leaders have finally decided to join PTI after lengthy discussions.
He said that the party welcomes Elahi and his aides as they have now set on the path towards a "new Pakistan". The former minister said, "Mr Elahi has rendered sacrifices and stood by Imran Khan through thick and thin."
Fawad told media persons that the party has also decided to appoint Mr Elahi as PTI's president and the senior leadership has also green-lighted the decision. "We will move forward over this step in line with our party's constitution," Fawad added.
On the occassion, Parvez Elahi said that he will always support the former prime minister, and never do anything that harms their new party.
Earlier today, former prime minister Imran Khan held a meeting with former Punjab Chief Minister Chaudhry Parvez Elahi in connection with the merger of the Pakistan Muslim League-Quaid (PML-Q) with the Pakistan Tehreek-e-Insaf (PTI).
Mr Khan and Mr Elahi discussed the joint political alignment during the meeting. PTI Secretary General Asad Umar and 10 former PML-Q lawmakers and senior leaders were present in the meeting.
Hafiz Ammar Yasir, Shujaat Nawaz, Abdullah Yousuf Warraich, Bao Rizwan, Sajid Bhatti, Ahsanul Haq, Muhammad Afzal, Bisma Chaudhry, and Khadija Umar Farooqi also participated.
Moosa Elahi, Chaudhry Maqsood Sulehri, Khurram Munawar Manj, and Haji Umar Habib also attended the meeting.
Watch here
Meanwhile, the session of the governing body of the Pakistan Tehreek-e-Insaf Central Punjab Wing was held at the party office on Jail Road in which detailed deliberation was made on the 'Jail Bharo movement'.
Detailed briefings were given to the participants by Sheikh Imtiaz Mahmood and the strategies were finalised to make the movement a success.
— Andleeb Abbas PTI (@AndleebAbbas) February 21, 2023
A ceremony would be held at the beginning of the movement in the honour of the party's senior leaders and workers who would court arrest.
Don't Miss: PTI forms special committee for 'Jail Bharo Movement'
Yasmin Rashid said the jails would become insufficient due to the detention of the party's workers and the movement would be peaceful and in line with the constitution. The rulers could not instill fear in the minds of the PTI workers and leaders.
Andleeb Abbas, Dr Azeemuddin, Sheikh Imtiaz Mahmood, Zubair Niazi, Amna Janjua, Rukhsana Naveed, Sadia Sohail Rana, Mehar Wajid Azeem, Ahmed Talha, Mian Awais Anjum, Shaukat Bahtti and Khaild Gujjar participated in the session.