CTD arrests three more suspects amid rumours about 'inside help' in Karachi attack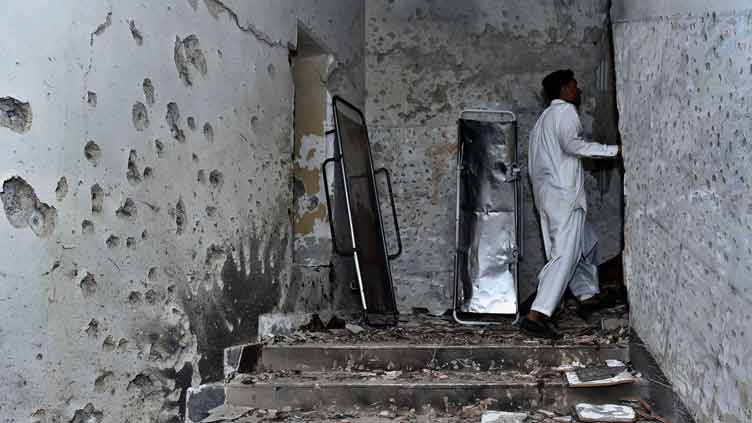 Pakistan
More than 100 mobile numbers declared suspicious by security officials
KARACHI (Web Desk) – Police have arrested three suspects after geofencing as probe has widened into the terrorist attack on the Karachi Police Office.
The action was taken by the Counter Terrorism Department (CTD) of the Sindh Police who conducted various raids in Sohrab Goth and other areas of the southern port city. Security officials have recovered some mobile SIMs from the possession of suspects who have been shifted to undisclosed location for interrogation.
The users of more than 100 mobile numbers, who have been declared suspicious, are being traced by police officials. It has emerged that around a dozen numbers have been switched off since the terrorist attack. The development comes a day after police arrested 10 suspects in multiple raids.
Meanwhile, police are investigating on an aspect whether the terrorists got help from inside to launch the braze attack. A top police officer told media that the militants cut the barbed wires from a point that is not covered by the CCTV cameras. He also said efforts were under way to hunt two suspects who met the militants outside the KPO before the attack began.
The death toll in KPO terrorist attack surged to five as another injured poliecman succumbed to his wounds at a hospital on Sunday. Abdul Latif, who was posted in the Karachi police's security division, was admitted to the Jinnah Hospital after he suffered bullet wounds in the attack.
The city police have registered a case in terrorist attack on the Karachi Police Office (KPO). The case has been registered on the complaint of Saddar Station House Officer (SHO) Khalid Hussain under murder and attempted murder sections of the Pakistan Penal Code (PPC) and multiple sections of the Anti-terrorism Act.
Read More: PM Shehbaz for use of might amid rumblings about 'security lapse' in Karachi attack
Five people including officials of police and rangers embraced martyrdom and 18 others suffered injuries after three terrorists attacked the KPO on Friday evening. The three suspects were also killed during face-off with the security forces.