PM Shehbaz for use of might amid rumblings about 'security lapse' in Karachi attack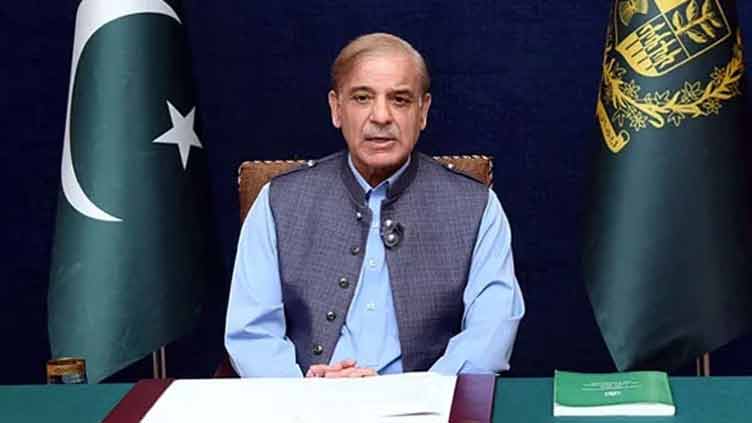 Pakistan
He hails security forces for successful operation against terrorists at Karachi Police Office
ISLAMABAD (Dunya News) – Prime Minister Shehbaz Sharif on Saturday called for the use of entire state power and cooperation to weed out the scourge of terrorism.
The premier's remarks come after a terrorist attack at the Karachi police head office on Friday night, which claimed four lives – a Rangers sub-inspector, a police constable and two civilians. All the three terrorists were also killed in the operation launched after the attack.
A spokesman for the Sindh police said one of the terrorists was killed due to the explosion of his jacket, while two others were killed in an exchange of fire with the security officials.
PM Shehbaz hailed the successful operation of security forces against the terrorists at the police headquarters. He said the security forces displayed professionalism and diligence in the hour-long operation.
Read More: Karachi police head office attack: Two terrorists killed by LEAs identified
The prime minister paid tributes to those martyred during operation against terrorists. He also expressed his condolences to the bereaved families and announced martyrs' package for those who lost their lives in the operation. He also directed the officials to provide best possible medical treatment to those injured. He stressed the need for operational readiness and capacity building of police.
The terrorist attack was also condemned by the US, Iran and the United Nations and they announced their support for the people of Pakistan in the face of recent terror attacks.
US State Department spokesperson Ned Price strongly condemned the terrorist attack at the Karachi police office. "We stand firmly with the Pakistani people in the face of this terrorist attack. Violence is not the answer, and it must stop," he wrote while condoling with the families of those injured and martyred in the attack.
The terrorist attack on the Karachi police headquarters was carried out weeks after a suicide bomber blew himself up inside a mosque located in Peshawar Police Lines. The attacked had claimed more than 100 lives.
- Questions about security lapse -
Meanwhile, there are reports about a security lapse which allowed the terrorists to reach a highly sensitive place. The Sindh government and security authorities decided to conduct a 'security audit' of the key installations. Officials privy to the development say it needs to be examined how militants made it to the fortified police office.
A section of the media reported that Sindh IGP Ghulam Nabi Memon visited the police headquarters after Friday prayers and reviewed the security arrangements besides passing necessary directions.
The police are bearing the brunt of the situation and it is high time the security and allied policies were revisited, says an official. He says the recent Peshawar Police Lines attack was a wake-up call for the law-enforcenment agencies and the latest attack needs introspection, he says.
Some officials also believe that it is just a symbolic attack but it should be good enough to wake the higher authorities from slumber.