Islamabad court rejects Sheikh Rashid's bail plea in Zardari remarks case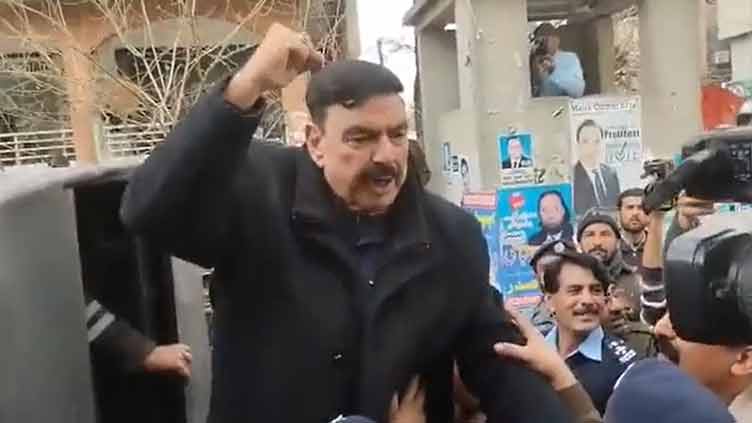 Pakistan
AML chief was arrested on Feb 2 for making defamatory remarks against PPP co-chairman
ISLAMABAD (Dunya News) – A district and sessions court in the federal capital on Thursday rejected the post-arrest bail plea filed by Awami Muslim League (AML) chief Sheikh Rashid Ahmed in a case pertaining to his remarks against former president Asif Ali Zardari.
Additional Sessions Judge Tahir Abbas Sipra announced the verdict reserved earlier in the day after hearing arguments from the petition and complainant in the case. This is the second time that his bail petition has been turned down as the same was earlier rejected on Feb 7.
The Islamabad police had arrested the former interior minister on Feb 2 after a case was registered at the Aabpara police station against him for accusing the PPP co-chairman of hatching a plot to assassinate PTI Chairman Imran Khan. Following his arrest, a court approved his two-day physical remand and later he was sent on the judicial remand for 14 days.
Sheikh Rashid is currently in the custody of the Murree police after a judicial magistrate on Feb 8 approved his one-day transit remand in a case related to interference in state affairs and resisting his arrest.
Read More: Islamabad court hands over Sheikh Rashid to Murree police

During Thursday's hearing, the complainant opposed the bail petition, saying: "Sheikh Rashid, along with Imran Khan, is hatching a conspiracy against Asif Zardari". He said the AML-chief, who has served at several ministries during his political career, had attempted to develop confrontation between the PPP and the PTI by making provocative statements. "His bail petition should be rejected," he pleaded the court.
However, the lawyer for Mr Ahmed said his client had been embroiled in a false case, adding that a defamation case could only be registered against the AML chief over his remarks against Zardari.
Sheikh Rashid, during interrogation, said he had just referred to a statement made by Imran Khan against Mr Zardari. The judge asked if the PTI chief had also been made part of the investigation. At this point, the complainant pleaded the court to include Mr Khan in the investigation.
After hearing the arguments, the additional sessions judge reserved a verdict on the post-arrest bail petition and later rejected it.