Islamabad court hands over Sheikh Rashid to Murree police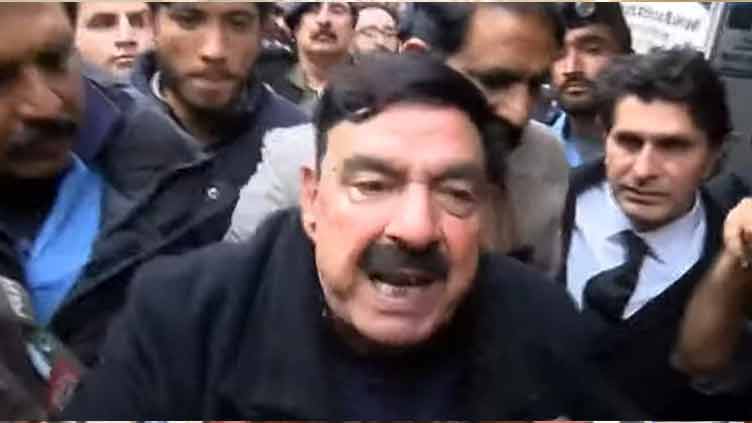 Pakistan
Islamabad court hands over Sheikh Rashid to Murree police
ISLAMABAD (Dunya News) – A court in the federal capital handed over Awami Muslim League (AML) chief Sheikh Rashid Ahmed to the Murree police after approving his one-day transit remand in a case related to interference in official affairs.
On Feb 3, Mr Ahmed was booked by the Murree police for interfering in official affairs and resisting his arrest a day after he was taken into case for accusing former president Asif Ali Zardari of hatching a plot to assassinate Pakistan Tehreek-e-Insaf (PTI) Chairman Imran Khan.
The close ally of the PTI, who was sent on 14-day judicial remand last week in Zardari-related case, was produced before the district and sessions court where the Murree police sought transit remand of the AML chief. However, Mr Ahmed's lawyer Ali Bukhari said a judicial magistrate had also rejected an identical petition for the transit remand. The prosecutor told the judge that the police needed to produce the senior politician in a court in Murree.
After hearing arguments, the court accepted the police plea and approved one-day remand while directing the police to produce him back in this court tomorrow (Thursday).
Read More: Sheikh Rashid booked in Karachi for using abusive language against Bilawal Bhutto
The AML chief also briefly spoke to media and said, "I was asked to meet an important person last night but I refused it". "They want me to change my political loyalties but I will not do it," he said.