Sheikh Rashid booked in Karachi for using abusive language against Bilawal Bhutto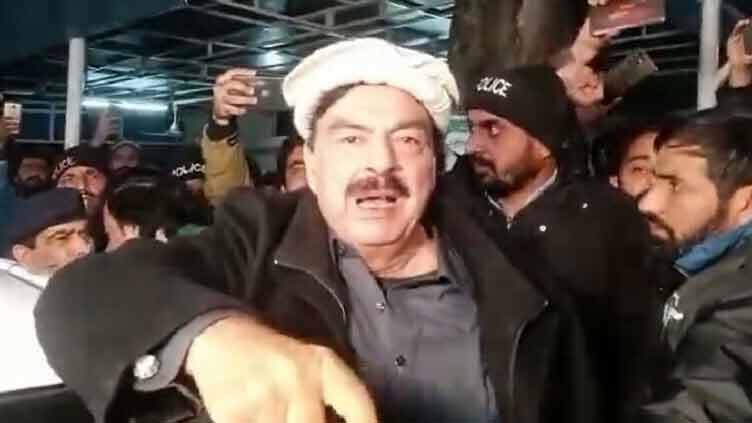 Pakistan
Sheikh Rashid booked in Karachi for using abusive language against Bilawal Bhutto
KARACHI (Dunya News) – A case has been registered against incarcerated Awami Muslim League (AML) chief Sheikh Rashid Ahmed in Karachi for using immoral language towards Foreign Minister and PPP Chairman Bilawal Bhutto Zardari.
The case has been registered at Mochko Police Station under sections 506, 504, 500 and 153 of the Pakistan Penal Code (PPC) on a complaint filed by a PPP worker named Khuda Bux. The complainant alleged that the former interior minister while talking to media outside the Poly Clinic Hospital, Islamabad, used abusive language against Bilawal Bhutto.
His insolent attitude sparked anger among the workers of the party, who also took to the streets against the AML-chief in Karachi, he said, adding that he managed to defuse the situation after convincing them.
Mr Bux said the former interior minister attempted to create chaos and anarchy by using objectional language towards the PPP chairman. He demanded the police to take an action against Mr Ahmed as per the law.
The close ally of PTI Chairman Imran Khan is currently in custody of the Islamabad Police on two-day physical remand in a case registered for accusing former president Asif Ali Zardari of hatching a plot for assassination of the PTI chief.
Read More: Police get two-day physical remand of Sheikh Rashid
Sources said the Karachi police had formed a team that would travel to Islamabad to take custody of the former interior minister in the case. They said Mr Rashid would be shifted to Karachi for interrogation.
Meanwhile, a separate case has been registered against Sheikh Rashid at the Murree police station under sections 353, 186, 506/2 for interference in official affairs when security official reached his residence earlier this week to arrest him.