Imran describes police raids at Elahi's residence as 'fascism'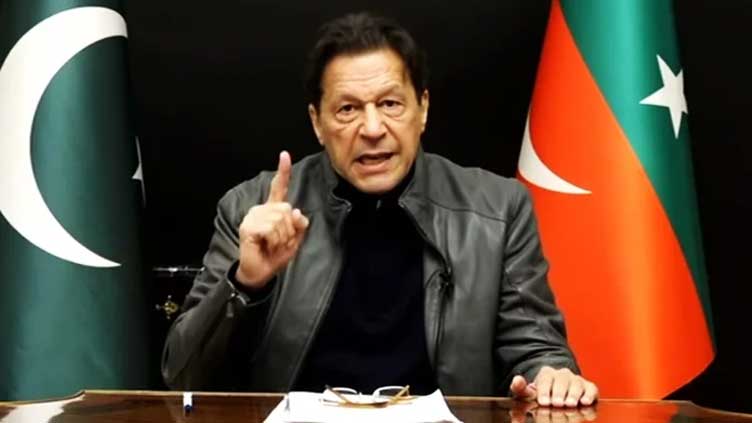 Pakistan
Deposed premier says ruling PDM will not be able to succeed in their ambitions
LAHORE (Dunya News) – Pakistan Tehreek-e-Insaf (PTI) Chairman Imran Khan on Wednesday condemning multiple police raids at former chief minister Chaudhry Parvez Elahi's residence said that these are "fascist acts".

Taking to Twitter, the deposed premier clarified that in PTI government the actions and arrests of PML-N stalwarts were the results of compelling evidence in Panama papers and NAB cases, adding that despite severe allegations against them they were given VIP treatment in jails.
Also read: Probe launched into contracts awarded during Elahi's tenure

He went on to say that multiple police raids at Elahi's residence in Gujarat, abduction of his supporters, and unjustified arrests by the "imported government" are acts of fascism.
Don't miss: Police make no arrest during raid at Elahi's Gujrat residence

The PTI supremo added that incumbent rulers would not be able to succeed in their ambitions, adding that these unjust actions will only strengthen their determination.
Earlier, Parvez Elahi after meeting with the legal team, decided to contact the Lahore High Court (LHC) regarding the interim government's actions.

Senior lawyers including Mohsin Raza, Khubaib Zaman Baloch, Wasim Sandhu, Tayyab Usman, and Asif Hafeez along with Raja Basharat, Sajid Bhatti, and other political leaders were also present during the meeting.

Illegal actions of the interim government were discussed in the meeting. Also to stop the developmental projects started by the caretaker government and the arrest of political opponents were kept under consideration during the meeting.

The raids and arrests from the secretary of the Assembly Muhammad Khan's residence were strongly condemned.

The former CM said, "The caretaker government had no regard for anyone's privacy or honor, the nation will respond to such vile acts for the sake of political revenge in the form of voting in the general elections."