Imran to use court arrest as trump card if elections delayed in Punjab, KP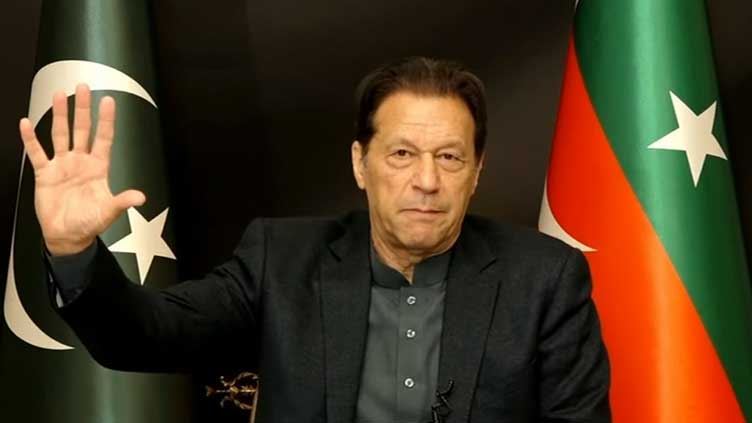 Pakistan
Imran to use court arrest as trump card if elections delayed in Punjab, KP
LAHORE (Dunya News) – Pakistan Tehreek-e-Insaf (PTI) supremo Imran Khan said on Monday "Jail Bharo Tehreek" (court arrest drive) will be kicked off if by-elections delayed in Punjab and Khyber Pakhtunkhwa assemblies.

Addressing PTI workers via video link at his Zaman Park residence in Lahore, the deposed premier said it has been more than 25 days, and the Election Commission of Pakistan (ECP) and governors of two provinces have not given a date for the by-elections, adding that economic and political turmoil will prevail if the situation remains same.

"If elections are delayed more than 90 days then it is crystal in the constitution that Article 6 will apply," added Imran. He went on to say that the masses are losing faith in the constitution due to the incumbent government's foul tactics.

Earlier, the PTI chairman while condemning the blocking of Sehat card (health insurance card) by the incumbent government, said it manifests the fascist mindset of the Pakistan Muslim League-Nawaz (PML-N) and the Pakistan Peoples Party (PPP).

Taking to Twitter, he wrote, "Health card was a blessing for inflation-stricken people, and it was helping establishment of private healthcare centres in rural areas". "The project also garnered admiration by the popular international health magazine Lancet", he added.
Sehat card programme had been launched by the PTI government and Rs400 billion were earmarked for the project in Punjab. However, the incumbent government, in a bid to comply with the pre-conditions imposed by the International Monetary Fund (IMF), had obligated four provinces to surrender Rs800 billion to the federal government as cash surplus this year to contain fiscal deficit and primary balance within budgeted targets.

— Imran Khan (@ImranKhanPTI) February 6, 2023