Threats and talks cannot go hand in hand, PTI tells govt ahead of APC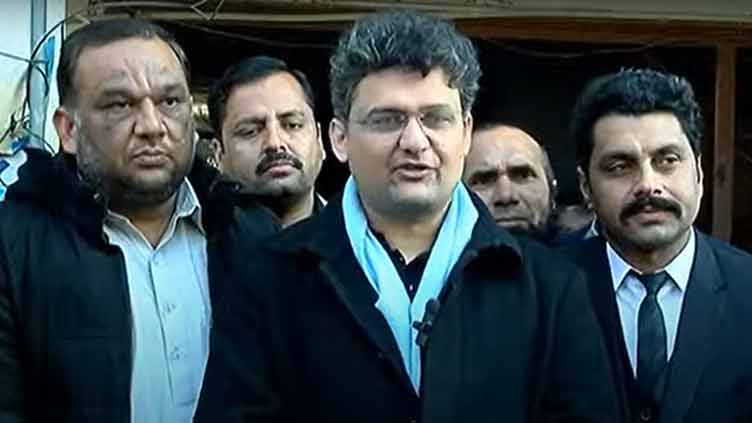 Pakistan
Threats and talks cannot go hand in hand, PTI tells govt ahead of APC
ISLAMABAD (Dunya News) – Pakistan Tehreek-e-Insaf (PTI) leader Senator Faisal Javed said on Saturday threats and offers for negotiations could not go together as the government was registering cases against its opponents on one side and sending invitation for talks on the other side.
In a media talk outside a court in the federal capital, the PTI bigwig said embroiling the opponents in the politically-motivated cases would not fix the worsening economy and depreciate the US dollar against the rupee.
His remarks come as Prime Minister Shehbaz Sharif has invited PTI Chairman Imran Khan to attend the All Parties Conference (APC), scheduled to be held on Feb 7, to discuss the challenges being faced by the country.
Read More: PM invites Imran Khan to APC to deliberate national challenges
Mr Javed said: "We are ready for talks if the government announces a date for general elections in the country". The PTI has been demanding early elections in the country since the ouster of Imran Khan as prime minister through a no-confidence motion in April last.
He highlighted that inflation in the country had surged to a record level. He said the government was also planning to introduce a bill, adding that any curbs on journalism would not be accepted.
Accusing the government of political victimisation of the PTI leaders, he said they were facing different cases on a daily basis. "I have been nominated in 13 cases," he said.
Speaking on the occasion, PTI leader Murad Saeed said over 100 people, including policemen, were martyred in the Peshawar mosque blast. "We had been alerting the government about security situation since June last," he said, adding that actions should be take to save the country from the menace of terrorism.