Zardari concocting 'Plan C' to assassinate me, alleges Imran Khan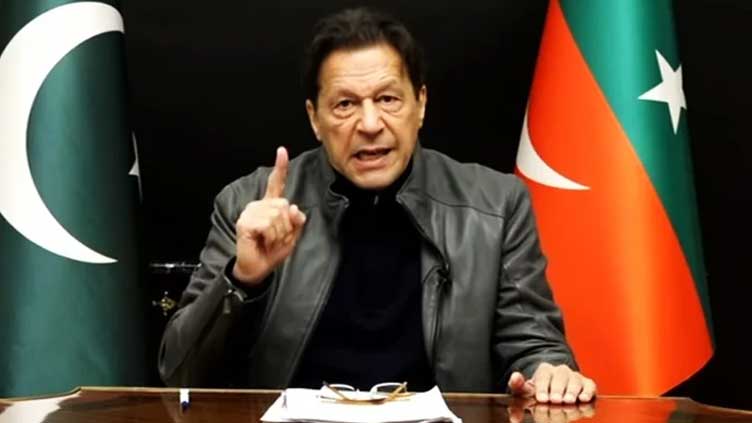 Pakistan
The PTI chairman takes a dig at govt over worsening economic crisis
LAHORE (Dunya News) – Pakistan Tehreek-e-Insaf (PTI) chairman and former prime minister Imran Khan on Friday lashed out at the incumbent government and said the lives of labourers and salaried class had been made miserable due to country's worsening economic crisis after regime change.
Addressing the nation through video link, he said the exchange rate of dollar was plummeting continuously, which would lead to increase in the prices of petrol and diesel and bring a new storm of inflation in the country.
The former PM said, "That s why I asked repeatedly to hold elections, instead of bringing such people to power." He said they [government] didn't come to power to give relief to the masses.
Imran Khan said a conspiracy to assassinate him was hatched behind the closed doors by four persons.
Hitting out at the caretaker Punjab government, the PTI chairman said that instead of announcing date for elections, the interim provincial government had shut down work on the ongoing schemes started by his government and the Joint Investigation Team (JIT) formed to probe the Wazirabad attack. He said that according to the JIT report, there were three shooters, adding that the police officials refused to give statements to the JIT, whereas anti-corruption officer Nadeem Sarwar sealed the investigation record. "Why are they afraid when they haven't done anything wrong," he asked.
Mr Khan said the powerful people conspired to assassinate him, adding that he had told in address to the rally a couple of weeks ago that, "I have made a video in which the names of the conspirators have been revealed and if anything happens to him, the video will be released."
The ex-PM also accused Pakistan Peoples Party (PPP) co-chairman and former president Asif Ali Zardari of making a Plan-C to assassinate him after failure to execute Plans A and B. He also alleged that the former president had given money to a terrorist outfit.
Mr Khan said, "I am telling the nation that they will again attempt to assassinate me", adding that he would once again be among the public as soon as he recovers. The nation must know if anything happened to me, he added.
Watch Live
This is a developing story ...