Punjab interim cabinet sworn in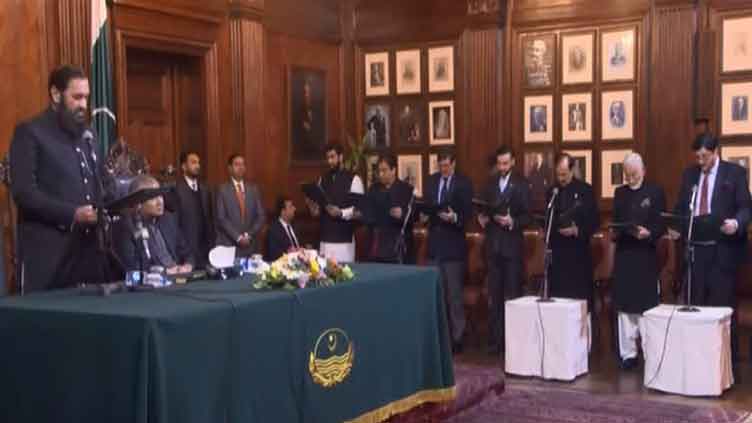 Pakistan
Punjab interim cabinet sworn in
LAHORE (Dunya News) – The eight ministers of the Punjab interim cabinet took oath of their offices on Thursday.
Punjab Governor Bali­ghur Rehman administered oath to the caretaker cabinet members. They included health expert Dr Javed Akram, senior journalist Amir Mir, Bilal Afzal, SM Tanveer, Ibrahim Murad, Dr Jamal Nasir, Mansoor Qadir, and Syed Azfar Ali Nasir.
Wahab Riaz, Tamkinat Karim and Naseem Sadiq couldn't attend the ceremony.
After the caretaker ministers took the oath of office, interim Punjab CM Mohsin Naqvi felicitated them.
Talking about the newly formed caretaker setup, Mr Naqvi said, "The caretaker Punjab government was absolutely apolitical and unbiased".
Speaking about the polls in Punjab, Mr Naqvi pledged the elections will take place in a peaceful environment.
Read also: Interim KP cabinet takes oath amid PTI reservations

Earlier today, the members of the newly-formed cabinet of caretaker Khyber Pakhtunkhwa Chief Minister Azam Khan took oath amid concerns expressed by the Pakistan Tehreek-e-Insaf (PTI).
KP Governor Haji Ghulam Ali administered oath to the 12 ministers and three advisers at a ceremony which was attended by the chief minister and other officials.
The 15-member cabinet comprises former IG Masood Shah, retired Justice Irshad Qaiser, Barrister Saawal Nazir, Bakht Nawaz, Shafiullah Khan, Haji Ghafran, Khushdil Khan, Taj Mohammad Afridi, Shahid Khattak, Mohammad Ali Shah, Adnan Jalil, Abdul Haleem Qasuria, Fazal Elahi and Manzoor Khan Afridi.