Fawad's arrest: Imran implores nation looks up to SC to dispense justice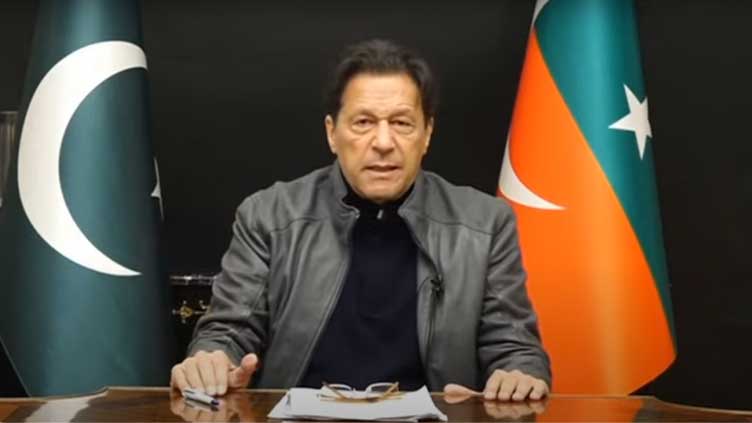 Pakistan
"I am not afraid of jail and also tell everyone not to be afraid of jail," Khan said.
LAHORE (Dunya News) – Pakistan Tehreek-e-Insaf (PTI) chairman and former prime minister Imran Khan on Wednesday lashed out at the Election Commission of Pakistan (ECP) and urged every citizen to come out and fight for the future of their children.
Addressing a press conference in Lahore on Wednesday, he took a dig at the ECP after party s senior leader and former federal minister Fawad Chaudhry was arrested in a sedition case.
Mr Khan said the nation was looking up to the Supreme Court and the Chief Justice of Pakistan (CJP) for justice.
He said that the country where there is no rule of law, is called a "banana republic", while the country's with rule of law prosper.
"I am not afraid of jail and also tell everyone not to be afraid of jail," Khan said and added there will be darkness ahead, if Pakistanis didn't stand up today.
The PTI chairman asked if calling ECP a 'munshi' (clerk) would put democracy in jeopardy, adding that 30 cases had been filed against Azam Swati for his just one tweet.
Recalling slain journalist and senior anchorperson, the former PM said that he Arshad Sharif was an honest, self-reliant, and patriotic journalist. Mr. Khan while raising question over assassination attempt on him told the nation that the future is in their own hands.
He said the cases of various members of the incumbent coalition setup were pending before the courts and therefore they could not detain him.
A lot of PTI workers reached the residence of Imran Khan at the Zaman Park given the possible arrest of Imran Khan with the former premier saying the people of the country were with his manifesto.
Responding to the arrest of PTI leader Fawad Chaudhry, PTI chief said Mr Chaudhry was an important part of the party and his detention was based on revengeful politics.
Meanwhile, Mr Khan had also issued directions to the central leadership after consultation with the party's senior leaders.
Watch complete speech here