India invites Pakistan's chief justice, foreign minister to SCO moots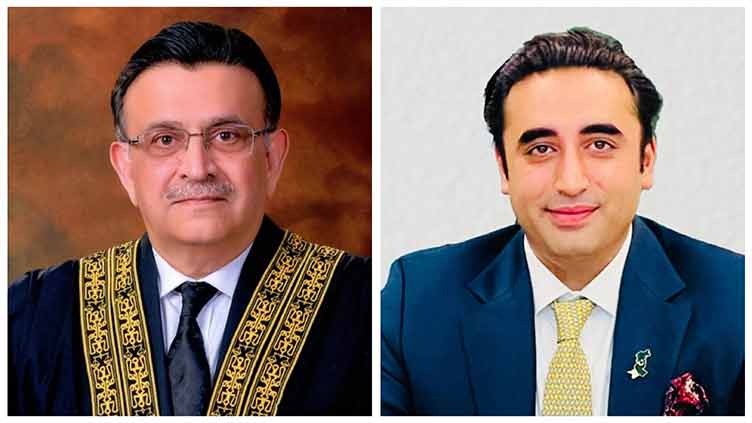 Pakistan
India invites Pakistan's chief justice, foreign minister to SCO moots
ISLAMABAD (Dunya News) – India has invited Chief Justice of Pakistan Umar Ata Bandial and Foreign Minister Bilawal Bhutto-Zardari to attend the meetings of the Shanghai Cooperation Organisation (SCO) scheduled for later this year.
The SCO is a key regional forum comprising Pakistan, China, Russia, Kazakhstan, Kyrgyzstan, Uzbekistan, Tajikistan and India. It focuses primarily on the areas of trade, finance, commerce and socio-economic cooperation among the SCO member states. Currently, the presidency of the forum is held by India, which will organise a series of events, including a conference of the chief justices of member states and a moot of the foreign ministers this year.
The chief justices of the SCO will meet in March while the meeting of the foreign ministers is scheduled for May in Goa.
Sources said CJP Bandial and FM Bilawal had not yet responded to the invitations.
Relations between the nuclear-armed neighbouring countries have remained tense since India revoked the special status of the occupied Jammu and Kashmir.
Bilawal Bhutto calls for collective approach to tackle climage change challegnes
Addressing the 26th meeting of the Council of Ministers of Economic Cooperation Organization in Tashkent, Bilawal Bhutto-Zardari stressed the need for a collective approach to address the issues faced by the region. He said the regional countries needed to develop a strategically robust emergency response to any climate crisis in future. He noted that the issue of climate cooperation was very significant.
The foreign s minister welcomed the proposal of Uzbekistan for the establishment of a dialogue platform on environmental cooperation within the framework of ECO.
Alluding to the devastation caused by floods in Pakistan, he said Pakistan s urgent priority was to ensure rapid economic growth and lift millions out of destitution and hunger. He said we would not only build back better but do so in a climate-resilient manner.
Bilawal Bhutto-Zardari said Pakistan believed the ECO led by shared principles of solidarity and mutual support had the collective strength to measure up to the challenges. "Together we can and should make a difference." He said regional preferential trade framework amongst the ECO members would help us in enhancing cooperation. He said Pakistan would continue to accord high priority to trade promotion and facilitation within the ECO.