PPP leads race for second phase of Sindh LG polls as results pour in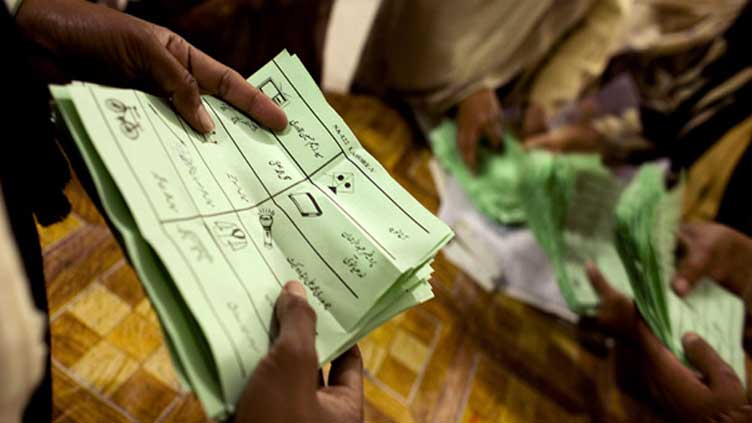 Pakistan
PPP leads race for second phase of Sindh LG polls as results pour in
KARACHI / HYDERABAD (Dunya News) - Unofficial and unconfirmed results started pouring in after polling ended for the much-hyped second phase of local government elections in 16 districts, including Karachi and Hyderabad amid MQM-P boycott.

The polling began at 8am and the ending time was 5pm but in several districts, clashes were also reported.

Polling was held in seven districts of Karachi division and nine districts of Hyderabad division. Apart from Karachi and Hyderabad city, votes will also be cast in Jamshoro, Matiari, Tandu Muhammad Khan, Tandwala Yar, Dadu, Thatta, Sajawal, Badin areas.
According to the unofficial and uncomplete results, Pakistan Peoples Party (PPP) is leading by securing 209 seats, Pakistan Tehreek-e-Insaf (PTI) bagged 14 seats, and Jamaat-e-Islami (JI) could only secured.

-- Polling stations and voters --

According to the Election Commission of Pakistan (ECP), over eight million voters are expected to come out of their houses to elect their local government representatives from among 17,863 candidates contesting for chairman and vice-chairman of the union committee and general members, according to the Election Commission of Pakistan (ECP).
Don't miss: Nearly 8,000 polling stations declared sensitive
As many as 8,876 polling stations — 4,997 in Karachi and 3,879 in Hyderabad divisions — have been set up with CCTV, where strict security arrangements have been made.
-- Clashes erupt at several polling stations --
Several acts of violence, clashes and setting elections camps on fire were reported in differents distcricts of Sindh the ongoing local government elections on Sunday.

Unidentified people set seven election camps of different political parties on fire during ongoing local government elections in different areas of the provincial capital.
Police said first incident was reported in Saudabad area where fire was brought under control in no time. The suspects fled the scene.

The Korangi SSP said the investigation is underway to determine the elements behind the incident.
Read Also: PTI, PPP accuse each other of 'rigging'
The camps were set on fire in Korangi and Malir areas. Rangers and police are present at the affected camps.

The PTI leaders alleged that some masked men entered a polling station in North Nazimabad Town UC-3 of Rachi district, harassed the polling staff and returning officer and tampered with the technical equipment. It was further alleged that unknown people were riding vehicles with the PPP flag.

A heavy contingent of police and rangers reached the spot and controlled the situation, but no accused was arrested.

In another incident, a clash broke out at Mir Ghulam Muhammad Talpur, Tando Bagu Union Council 37 of Badin district where an opposing candidate tortured polling agent Abdul Qadir Anwar who alleged that hewas later kicked out of the polling station by teh supporters of a PPP candidate.

Another incident took place at the polling station of Ward 13 in Dadu district where the PPP and PTI workers exchanged words. The PTI workers prevented PPP MPA Mujeebul-Haq and his supporters from entering the polling station. The PPP activists raised slogans. Later, policemen reached the spot and brought the situation under control.
-- MQM-P announces boycott of Sindh LG elections --

The Muttahida Qaumi Movement Pakistan (MQM-P) on Saturday announced boycott of today's local government elections in Karachi and Hyderabad.

Addressing a press conference late Saturday in Karachi MQM-P Convener Khalid Maqbool Siddiqui said that they were going to boycott the local body polls because of their reservations that were not paid heed to.

He said that MQM was boycotting elections due to injustice and behaviour of the Elecxtion Commission. He said that they had contacted every forum including courts on the issue.

The MQM convener held Election Commission of Pakistan (ECP) accountable for monitoring the delimitation. He said that for delimitation they waited until the very last minute, adding that delimitation was the responsibility of ECP.
Know more: ECP terms statements of politicians irresponsible over delimitations issue
He said that they were contacted by the Prime Minister Shehbaz Sharif as well. Khalid Maqbool showed resolve to keep standing with federal government for the sake of democracy despite their reservations.

MQM-P Convener also said that even before the local body elections there was rigging and the elections were not acceptable for them.

He further said that they had struggled during the last six months at every level but the efforts of giving respect to vote could not be completed.

He was addressing press conference after a meeting with MQM-P's senior leadership including Farooq Sattar, Mustafa Kamal, Faisal Sabzwari and others.

Mustafa Kamal speaking at the moment said that the provincial government admitted the mistake of delimitation in 53 union councils and had written to the ECP. He said that in the past Jamaat-e-Islami s mayor only put up their names to projects but only MQM has served the people of the city.